Professor Amaka Offiah
BSc, MBBS, MRCP, FRCR, PhD, FRCPCH
Clinical Medicine, School of Medicine and Population Health
Chair in Paediatric Musculoskeletal Imaging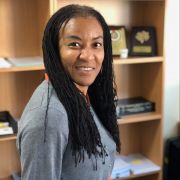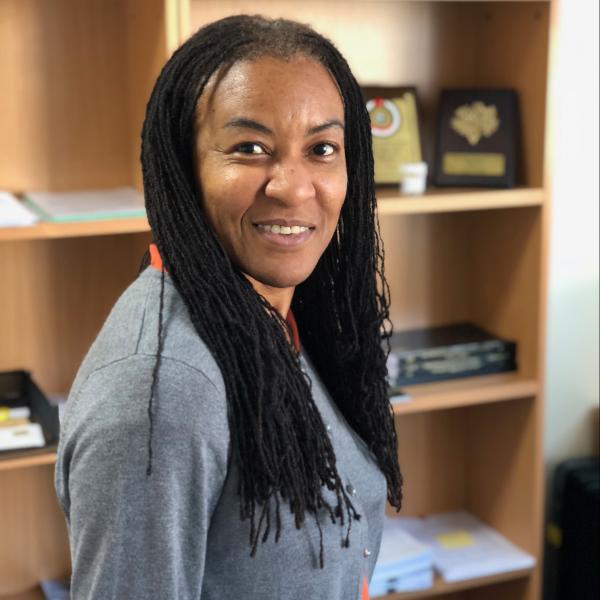 a.offiah@sheffield.ac.uk
+44 114 271 7557
Room 15, The Damer Street Building, Sheffield Children's Hospital
Full contact details
Professor Amaka Offiah
Clinical Medicine, School of Medicine and Population Health
Room 15, The Damer Street Building
Sheffield Children's Hospital
Western Bank
Sheffield
S10 2TH

Profile

For enquiries, please contact - iicd-om-operational@sheffield.ac.uk

My undergraduate training took place in Nigeria.

I obtained my MRCP while working at Oldchurch Hospital, Essex and then trained as a radiologist in Sheffield. I moved back to London, to Great Ormond Street Hospital and the Institute of Child Health, where I obtained a PhD for my thesis, "Optimisation of the digital radiographic imaging of suspected non-accidental injury".

I returned to Sheffield as a HEFCE-funded Clinical Senior Lecturer in the Academic Unit of Child Health, was promoted to Reader in Paediatric Musculoskeletal Imaging in January 2015 and promoted to Chair in Paediatric Musculoskeletal Imaging in January 2020.
Research interests

I am interested in the imaging of suspected child abuse and skeletal dysplasias and in methods of determining which children have fragile bones prone to fracture and which do not.

More specifically, I am concentrating on the optimisation of current techniques and development of novel methods of distinguishing brittle from normal bones, in understanding the mechanisms of accidental injury in children, in developing objective imaging biomarkers and normative data for the paediatric musculoskeletal system including post-mortem imaging and in diagnosing fractures in the Emergency Department.

---

Current projects

Validation of Injury Mechanisms using Engineering Simulations (VOICES)
Applications of artificial intelligence to the paediatric musculoskeletal system

dynamic Radiological Electronic Atlas of Malformation Syndromes (dREAMS)
Clever dREAMS
Vertebral morphology/vertebral fracture assessment
ELECtronic tool for Clinicians, Teachers and Researchers In Child Abuse (ELECTRICA)

Assessment of bone health in children
Optimisation of fracture detection in suspected physical abuse in children
Developing vibration analysis as a screening tool for

Fractures following injury to wrist or ankle
Reduced bone density
Publications

Show: Featured publications All publications

Featured publications

Journal articles

All publications

Books

Journal articles

Chapters

Conference proceedings papers

Posters

Datasets

Other

Preprints
Research group

Current Academic Collaborators

Owen Arthurs
Nick Bishop
Nicola Crabtree
Enrico Dall'Ara
Paul Dimitri
Xinshan Li
Maria Luisa Davila Garcia
Fabrizio Messina
Michael Paddock
Margaret Paggiosi
Alan Rigby
Reza Saatchi
Jonathan Taylor
Maria-Cruz Villa-Uriol
Elspeth Whitby

Current Clinical Collaborators

Utku Alhun
Paul Arundel
Penny Broadley
Moira Cheung
Marta Cohen
Dan Connolly
Kath Halliday
Christine Hall
Nathan Jenko
Gillian Klafkowski
Isla Lang
Ann Marie Jeanes
Nicolas Nicolaou
Ashok Raghavan
Maria Sukhanenko

Current Industrial Collaborators

PhD Students

Arwa Alhulwah
Nasser Alzahrani
Mohamed Hafez
Mohamed Hassan
Farirayi Nyakoko
Heba Shalof
Teaching activities

I contribute to the teaching of medical students and radiology specialist registrars on rotation at Sheffield Children's Hospital.

I offer SSC and BMedSci attachments to medical students and currently supervise/co-supervise 6 PhD students, having successfully supervised/co-supervised 11. I have given a large number of invited national (over 100) and international (over 60) lectures on various radiology, paediatric, genetic, emergency medicine and orthopaedic courses.

I am an instructor on the biannual Instructional Course organised by the Skeletal Dysplasia Group for Teaching and Research and helped to develop and then taught on the inaugural national skeletal dysplasia course held in Bangalore, India in August 2010.

I organise an annual 2-day paediatric radiology course for the general radiologist. I have contributed chapters to 13 well-respected radiology and histopathology textbooks, and am co-author of three books, "A Radiological Atlas of Child Abuse", "Fetal and Perinatal Skeletal Dysplasias: An Atlas of Multimodality Imaging" and "Paediatric Radiology Rapid Reporting for FRCR Part 2B".

I am a Fellow of the Higher Education Academy.
Professional activities and memberships

I am Managing Editor of the journal Pediatric Radiology. I chair the Child Abuse Taskforce of the European Society of Paediatric Radiologists. I am Convenor for the Skeletal Dysplasia Group for Teaching and Research. I am a member of the UNESCO Childhood Maltreatment Chair.

Within the University of Sheffield, I am Co-Chair of the Executive Coordinating Group for the Race Equality Charter and Faculty (Medicine, Dentistry & Health) Director for Wellbeing, Equality, Diversity & Inclusion.