BEaStly Business: Examining the illegal trade in bears, eels and songbirds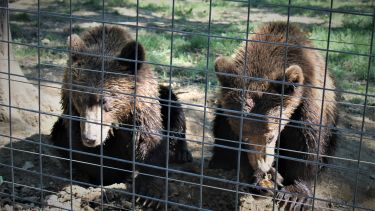 Funded by the UK Economic and Social Research Council, new project BEaStly Business will investigate the illegal trade of European bears, eels and songbirds and any known or unknown involvement of legally registered companies, known as green collar crime. 
Principal Investigator Professor Duffy, from the Department of Politics and International Relations, said: "The BIOSEC project exposed a gap in our knowledge about European illegal wildlife trade, and especially how legal and illegal trades in wildlife are mixed together.
"The global concern about organised crime targeting charismatic African and Asian species meant that little attention was being paid to trades within Europe, even though the region is a major player in the illegal wildlife trade. We also realised that there is a lack of understanding of how green collar crime shapes and drives this trade." 
Green collar crime
Green collar crime manifests as covertly hunting more birds than a legal permit allows or trading illegally sourced juvenile glass eels to fish farms where they are raised as legally farmed fish, for example.
According to Professor Duffy, the project will cast light on the importance of tackling green collar crime, widening out from a narrow focus on the role of organised crime networks. 
"There often is a legal trade in all of the species that we work with, which then has to be managed and regulated by member states," she added. "So what the BEaStly Business project is interested in is where there are legal loopholes that allow trafficking to go on underneath the legal trade.
"Part of our work will be about helping legitimate businesses to ensure they don't have illegal products going out of their company, ensuring they are genuinely involved in the legal and regulated trade."
Why bears, eels and songbirds?
The research team will focus on illegal wildlife trade in three species; the highly charismatic European brown bear, the semi charismatic and well-loved songbirds, and the unloved or 'Cinderella' species of eels, which are often overlooked in public debates.
"These three species have been selected for their differing levels of charisma," said Co-Investigator Professor Charlotte Burns, "that means the attractiveness or charm of the species, which can translate into increased attention and support for their conservation."
Concern about the trade in songbirds is well established, while trade in eels is rapidly becoming a major source of concern as one of the largest wildlife crimes in Europe. The trade in bears is an emerging issue which is not yet registering as an arena of concern for conservationists. 
The selection of these three species will allow the research team to interrogate whether there is illegal trade intersecting the legal activity around these species, and to establish differences and inequalities about the information collated on each species and the manner in which they are consumed. 
Professor Burns added: "For bears and songbirds, it's the legal eco tourism and sport hunting industries that either knowingly or unknowingly partake in illegal trade. But for eels, illegal trade moves through the food supply chains. We want to draw comparisons between those trades, and understand more about the commonalities and differences between each species."
The research
The team, including Laura Gutierrez Gomez, Teresa Lappe-Osthege and George Iordachescu, will make full use of existing data as well as producing new and original
data to fill important gaps in knowledge. 
The research will involve reviewing policy documents, analysis of the Convention on the International Trade in Endangered Species (CITES) database, interviews with stakeholders, life history/biography interviews, participatory photography, and knowledge exchange workshops. They'll share their findings through a series of articles and policy briefs to inform NGOs, Government Ministries and European Union institutions.
"We want the European Union to take green collar crime seriously and work with new innovative ways to tackle it," said Professor Duffy. 
"We hope to draw attention to these overlooked trades and challenge policy makers to go beyond the assumption that illegal wildlife trade is prosecuted by organised crime networks and instead examine how legal trades and legal entities can facilitate illegal activity," said Professor Duffy. "We want the European Union to take green collar crime seriously and work with new innovative ways to tackle it.
"Our research can lead to better policy making around illegal wildlife trade, but it also has the potential to help enhance the conservation status of these important species."

For more information about BEaStly Business and the BIOSEC project, head to the website or follow @BeastlyProject on Twitter. 
Flagship institutes
The University's four flagship institutes bring together our key strengths to tackle global issues, turning interdisciplinary and translational research into real-world solutions.