Boosting productivity and wellbeing in the UK workplace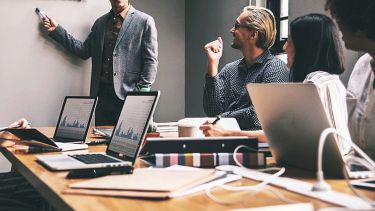 Boosting productivity is often considered one of the greatest economic challenges facing the UK today, with the most recent available data showing that on average UK workers produced 16 per cent less than other G7 economies and low rates of growth following the financial crisis more than a decade ago. The Economic and Social Research Council (ESRC) have prioritised research on management practices and employee engagement on the back of a consensus that driving engagement and productivity must happen in the workplace - where managers and employees create economic value. 
In response to this, PrOPELhub.org was established to bring together all recently funded ESRC projects around Management Practice and Employee Engagement through a process of co-production and co-creation. The Hub is designed to connect with other major ESRC investments and engage with world class scholarship on engagement and productivity in order to maximise the synergies and impacts of ESRC-funded work in this space. 
The project is led by the University of Strathclyde and funded by the ESRC and will provide a platform for sharing useful advice, ideas and practical lessons to promote high quality, inclusive and engaging work, agile and high-performing organisations and effective, efficient and prosperous societies, all informed by the latest research evidence.
Resources include advice on effectively engaging with and managing employees, investing in employee wellbeing for better productivity, and understanding the contributions of employees in workplace innovation. 
Professor Paul Latreille and Professor Richard Saundry, researchers at Sheffield University Management School have provided content for the initial launch of the website based on their areas of expertise, including pieces on Conflict capability and Covid, and Getting systematic with conflict in the workplace. 
Professor Latreille said: 'We're delighted Sheffield is part of this exciting new initiative. The Hub aims to boost UK productivity by helping businesses design and build more effective workplaces. Line manager competencies and confidence are a key part of achieving that, and our project's particular contributions will revolve around translating existing and new research into practical insights in developing managers' skills that the Hub will help share with the business community.'
Flagship institutes
The University's four flagship institutes bring together our key strengths to tackle global issues, turning interdisciplinary and translational research into real-world solutions.