Book launch: Britain Alone by Liam Stanley | 9th March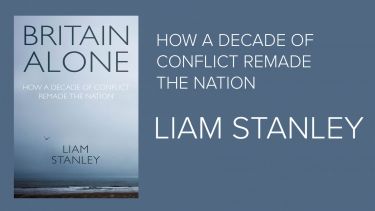 Britain Alone traces the complex nationalist path Britain took after the 2008 financial crisis. It analyses the thread that ties the fallout of the crash and austerity, through Brexit, and to the shape of lockdown politics, to provide a new history of the last decade of Britain and its relationship to the global economy. 
The book launch is on Wednesday 9th March between 17.00-18.00.
At the launch Liam will give a short presentation of the book's main themes and arguments. Maya Goodfellow, Leverhulme Early Career Research Fellow at SPERI and Matthew Watson, Professor of Political Economy at the University of Warwick will then join Liam to discuss the book and take questions from the audience. 
Britain Alone is published by Manchester University Press and is available to order here. Purchase a copy of Britain Alone direct from Manchester University Press and get 40% off with the special discount code: STANLEY22
Liam Stanley is a Lecturer in the Department of Politics and International Relations at the University of Sheffield and a Research Fellow at SPERI. 
---
'Britain alone is a fascinating and incisive piece of scholarship, full of historically-grounded insight about the place of state, nation, and empire in Britain's present political economy and consequent political predicaments.'
Helen Thompson, Professor of Political Economy, University of Cambridge
'In recent years, Britain has been gripped by political delusions and nostalgia, culminating in the Johnson premiership. Liam Stanley's great achievement is to dig beneath the mania and identify the underlying drivers, explaining how the unnecessary imposition of austerity created the conditions for a new nationalism. A lively and original analysis of Britain's extraordinary last dozen years.'
Will Davies, Professor of Political Economy, Goldsmiths