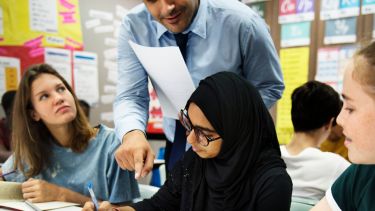 Inclusive teaching is for everyone equally. This means treating everyone the same. Singling out children from faith communities in activities or discussion can leave individuals feeling exposed and alienated. We have designed resources – provided here – for the whole class, not just children from religious backgrounds.
Inclusive RSE begins with recognising that cultural and religious differences can influence attitudes to RSE. This means that, when delivering RSE, teachers are encouraged to acknowledge ways in which culture and religion can shape differing attitudes to sex and relationships. It is important to do so as positively as possible.
Inclusive RSE, which is sensitive to religious diversity, is not to be confused with Religious Studies, where it is appropriate to teach the whole class about particular religions. This is why do not provide lesson plans on subjects like FGM or forced marriage. Instead, we provide resources on dismantling bias (stereotypes about religions) and on broaching topics about sex and relationships in which all faiths (and none) and associated values are important.
Reaching out to parents makes all the difference. This is especially important for children and families who are marginalised within educational settings, such as those who have English as a second language.
Widely held assumptions surrounding different faith groups can undermine RSE.  Teachers can help to challenge and begin to change these misunderstandings and stereotypes by working through the 'dismantling bias' exercise.
It helps greatly if diversity in the classroom includes teachers – having teachers of faith can help everyone feel included.
---
"We do not have diverse staff, we have no Muslim staff."

Teacher, Sheffield
---
We hope that these resources will be useful to schools and teachers as you introduce and develop RSE. If you have any questions or requests, please get in touch with a member of the project team.