A major city with a strong sense of community. A cultural centre on the edge of the Peak District national park. Sheffield is a special place, a city that leaves its mark. Its landscape, people and culture will influence you more than you can ever imagine.
Sheffield isn't just a backdrop to your degree. Our students play a full and active role in the life of the city. They set up home here and fall in love with the place. Choose the University of Sheffield and you'll discover an extraordinary place to live and study.
Things to do, places to see
Whether you're after a bit of culture or just having fun and games, there's nowhere better to live than Sheffield.
If you love the great outdoors and city culture, explore top running, walking, climbing and city experiences with Sheffield: the outdoor city.
There's a pulsating grassroots creative arts community, a harmonious multicultural population, more parks and woodlands than any other UK city, striking Victorian and modern architecture, big shopping at Meadowhall, small shopping at niche independent stores, the best pubs in Britain, dazzling public art, stylish restaurants, champion sport facilities, a legendary music scene, great cafes and coffee shops, secret parties, urban farms, Supertrams, seven hills, five rivers and two and a half million trees…
The ultimate student city
The best for music 
With nearly 70 venues in Sheffield, you'll be able to find gigs by local and international acts nearly every day of the week. Venues include the legendary likes of the Leadmill and the art deco City Hall. There's music in former warehouses (Hope Works) on trains (Folk Train), in pubs (The Harley and The Greystones, for starters), basement ballrooms (Picture House Social), old factories (Yellow Arch Studios), trading co-ops (Regather) and more.
And you can put on your dancing shoes most nights of the week at places like Code, Corporation, our award-winning Students' Union, and the bars and clubs around Division Street and West Street.
Our Department of Music's Concert Programme puts on more than 70 concerts a year, with performances by our students and visiting artists of international standing.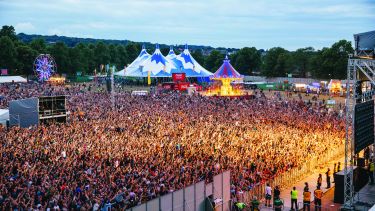 Music, zines, food, documentaries, heritage, the great outdoors, books. There's a festival for all of them and more in Sheffield.
The city hosts several major festivals each year, including the international DocFest and the now legendary Tramlines music festival. The University plays a significant role in the cultural life of the city through projects such as Festival of the Mind and Off the Shelf literature festival.
Photo credit: Richard Johnson
Sheffield is one of the UK's top ten most affordable student cities.
The Royal Bank of Scotland's Student Living Index 2020
Sheffield is known for its music, art and digital scenes, and has one of the largest regional theatre complexes outside London.
No 1 Students' Union in the UK
Whatuni Student Choice Awards 2020, 2019, 2018, 2017
Food and drink
Take yourself to London Road for a culinary tour around the world. Kelham Island for a real ale trail and foodie haven. The Devonshire Quarter for independent coffee shops and US-inspired deep-fried chicken and doughnuts.
Certain corners of Sheffield are defined by the food and drink they offer. Get out there and discover what makes each unique, all while giving your tastebuds a treat. Sheffield's an international city, and our many food and drink shops reflect that.
The city isn't also shy of places to enjoy a great cup of coffee. See Our Favourite Places top ten to find out about some of the finest coffee spots Sheffield has to offer.
Sheffield is also known as the real ale capital of the world. Around 1,000 different beers are produced by 57 different breweries in Sheffield each year. The city boasts a number of regular beer festivals and events and has a selection of real ale trails to be enjoyed across the city.
Eating on a student budget is really easy and there are lots of affordable places around campus. And within 30 minutes walk from the University there are restaurants from around the globe - Chinese, Italian, Caribbean, Thai, Lebanese, Japanese and British food. 
Having all these options is great for the adventurous eater and for international students, there is bound to be a place that reminds you of home.
Film
Celluloid thrillseekers can find plenty on offer at the dozens of screens across Sheffield – and there are big student discounts aplenty. Pick from the blockbusters at the Odeon, Cineworld, Vue of The Light, for fans of independent film there's a real gem in Curzon Sheffield and the Showroom cinema both slap bang in the city centre. A fabulous art deco building, the Showroom has been voted by Guardian readers as the best indie cinema in Britain. Curzon Sheffield has its own rooftop bar.
A warm welcome for LGBT+ students
Sheffield is a safe, tolerant and welcoming city for all students.
Good times are guaranteed at the Climax club night held right here in our Students' Union – which attracts LGBT folk from miles around.
For more on the scene around the University and the city, check out the union's LGBT Plus Committee.
City mini guide
With a little help from some of our students, we've put together this guide to give you a sense of Sheffield's unique character, and the sheer variety of things there are to do in the city.
The great outdoors
The Peak District, and its paths, hills, crags, reservoirs and lidos are easily accessible from the city by bus and train. Take a 15-minute train ride to the lovely Peak village of Grindleford, hike up Froggatt Edge or ramble out to Baslow, then come back and glug a pint of tea at the famous Grindleford station cafe.
For the fluffiest, friendliest field in Sheffield, head to the alpaca farm. With a visitor centre and cafe, Mayfield Alpacas is on the Sheffield Round Walk route, right where Sheffield meets the Peak District.
As one of the greenest cities in Europe and with the Peak District for a back garden, it's no surprise that Sheffield has declared itself The Outdoor City. It's known as the UK's climbing capital, while hikers, runners and cyclists flock to its surrounding hills, ancient woods and winding valleys. Take a look at some of the top outdoor highlights with the online guide Sheffield: the outdoor city.
Sport
As well as two professional sides in Sheffield Wednesday and United, the city is a hotbed of grassroots football and the birthplace of the modern game. Founded in 1857, Sheffield FC are the world's oldest club. Just across the city you'll find Hallam FC playing at Sandygate – the oldest football stadium on Earth.
Every year during the spring, you can experience the fabled atmosphere of the Crucible Theatre as it welcomes visitors from far and wide for the World Snooker Championships.
Choose from ice hockey with the Sheffield Steelers, both codes of rugby with the Sheffield Tigers and Eagles, the famous Sheffield Sharks basketball side, and speedway at Owlerton Stadium – the fastest track in Britain.
Climbers flock to Sheffield for the excellent array of indoor climbing walls. From disused railway line the Monsal Trail to picturesque reservoir loops, the nearby Peak District has tons of glorious routes to charm cyclists. And, for all kinds of leisure pursuit, including Olympic sized pool and diving pool, a visit to Ponds Forge is a must.
Shopping
For high-street shopping, the city centre is host to well-known retail names. Fill your boots at Meadowhall - one of the largest shopping centres in Britain with pretty much any big retailer you can think of under its roof and only a few minutes away from town by bus, tram or train.
If you end up living in the Broomhill or Crookes area, as many of our students do, there are some gems to be discovered. For second-hand bargains, there are many charity shops ready to be rummaged. Broomhill is also home to Sheffield's largest record shop, Record Collector, for all your vinyl needs.
Sheffield is jam-packed full of independent stores. Several areas of the city have grown to become quirky shopping districts in their own right. From local makers and vintage treasures to designer boutiques, you'll find an eclectic mix of shops, bars and restaurants that are worth a browse. Devonshire Quarter, Ecclesall Road and the Antiques Quarter are a few notable names.
Galleries, museums and exhibition spaces
If contemporary art floats your boat, the Site Gallery is a gem – but with Jarvis Cocker as a patron you'd expect no less. And Museums Sheffield offers three great venues. There's the spectacular Millennium Gallery for art, crafts and history. The Graves Gallery's breathtaking collection of visual art spans centuries and continents. And next to the University there's Weston Park Museum, where you can explore natural history, art and events in the city's social history. For a glimpse into Sheffield's past, a visit to Bishops' House is a must. Everywhere's free to get in, of course.
Next to the Peace Gardens and the Millennium Galleries you'll find Sheffield's award-winning Winter Garden where you can explore 2,500 plants from around the world, catch an exhibition or have a coffee and put your feet up.
During intro week I booked onto an art tour and I encourage any prospective student to attend it, since Sheffield is a city with a lot of hidden treasures.