The Sheffield University Women's Club offers you the opportunity to meet for lectures, activities, social events and outings in a relaxed environment which encourages friendships old and new.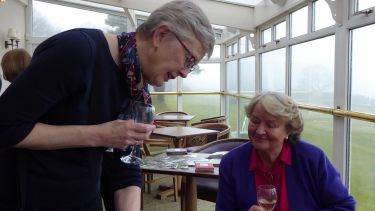 Membership is open to women who are, and to partners of those who are:
Officers of the University
Members of Council
Past and present members of academic and non-academic staff
Graduate students and alumni of the University
Associate membership
Associate membership shall be open to women with a particular connection with or interest in the University. Associate membership shall be restricted to 15% of total membership.
A change to this proportion may be proposed by the Committee subject to approval by the AGM. Associate members do not have voting rights.
Guests
Guests (male or female) are welcome to attend a talk on payment of a small charge to be determined annually by the committee.
Guests who are eligible will be encouraged to join.
If you would like to sample a meeting before committing yourself, do contact us and come as our guest.
Join now
Email your name, address and phone number to womensclub@sheffield.ac.uk and our Membership Secretary will contact you.
Subscription fee of £18 for the year.  
Events at the University
Browse upcoming public lectures, exhibitions, family events, concerts, shows and festivals across the University.