The Turner Museum is open to the public Monday - Friday (excluding Bank Holidays).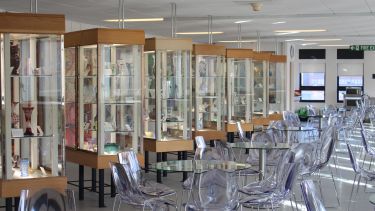 Off
Visit the museum
The Turner Museum is located in the Robert Hadfield Building which is managed by the Department of Materials Science and Engineering at the University of Sheffield. It is open to the public Monday to Friday, 10am to 4pm, excluding Bank Holidays.
The museum is on floor E. There is a lift and limited wheelchair access where assistance is advisable.
Please be aware that the space where the collection is displayed is used by students and staff from the department and that some teaching may be taking place.
For organised talks about the collection, please contact Professor John Parker (j.m.parker@sheffield.ac.uk) 
Contact the University Heritage Collections Manager Emily Green (e.j.green@sheffield.ac.uk) for enquiries about the collection. 
Find the museum on our campus maps - use the interactive map to search for the Sir Robert Hadfield Building, which is where the museum is located, or download the PDF
---
Virtual tour
Pay a virtual visit to the Turner Museum of Glass using our 360° online tour. Take a look around the museum by clicking or tapping the picture below. The museum can be found on Floor E, or you can select the quick link beneath the main image to jump straight in.
View the full screen virtual tour
---
The glass collection forms part of the University Heritage Collection.