Professor William E S Turner was arguably the most knowledgeable person of his era on the history of glass. His collection of glass objects, acquired throughout a lifetime of travels and research during the first half of the twentieth century, makes up the basis of the museum's exhibits.
The collection has continued to grow through acquisitions and donations, such as the collection of eighteenth-century drinking glasses donated by Albert Harland in 1943.
The collection has been catalogued and categorised based on their age and their provenance. There are over 380 pieces on permanent display including:
Bohemian, Czechoslovakian, Scandinavian, French and Dutch Glass

ltalian Glass from Murano, Venice

Experimental works by Frederick Carder manufactured at Corning in New York State, USA

Roman and Syrian Glass British Glass including pieces by John Moncrieff Ltd, James Powell and Son Ltd and Webb Corbett Ltd.

Studio glass pieces by Sam Herman, Anne Warf, Anna Dickinson and Keiko Mukaide.

The glass fibre wedding dress and accessories worn by Helen Nairn Munro when she married Professor W.E.S.Turner.
---
Feature article - Object of the Month: 
Jacobite Wine Glass: ID: 171
 by Ella Barrett, MA History student
This Jacobite wine glass has a drawn trumpet bowl is engraved with a rose bud with two oak leaves, an open rose with closed bud and two leaves. The stem includes multiple series air twist technique and a plain conical foot.
Several wine glasses in the collection symbolise visual elements that represent the Stuart monarchy. This particular glass is a key example: the engraved rose buds, oak leaves and closed buds all signify the House of the Stuarts.
The inclusion of the oak leaf references the escape of King Charles II during the English Civil War in 1651 and is a symbol of restoration and regeneration. It connects the complicated relationship between the Stuarts and the English Crown.
The air twist in the stem was the style in vogue in 18th century glassmaking. All English 'air twists' rotate in the same direction, with the glass blowers using their right hand to hold and rotate the pontil (iron rod used to shape the soft glass) in one direction while twisting the stem with their left, differentiating their production from other styles around Europe during that period.
Fact about the Stuart Dynasty:
Toasting to an overthrown King was a common but secret celebration in the 18th century. Following the transition of the Royal Houses from the Stuart Dynasty to the Oranges, the 1688 Glorious Revolution restructured English society.
Historically, the widespread production of tyrannous wine glasses symbolises an important period within British History known as 'Jacobite', where members of the public supported the return of King James II of Stuart House.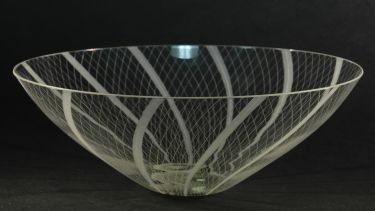 Heritage Open Days
15-16 September 2021, 10am-4pm
A guided tour of our collection of glass, which covers a span of 3000 years of glass making but especially early 20th century art and wine glasses.