Dr Jenny Preece
Department of Urban Studies and Planning
Research Fellow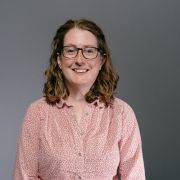 jenny.preece@sheffield.ac.uk
+44 114 222 8130
Interdisciplinary Centre of the Social Sciences (ICOSS)
Full contact details
Dr Jenny Preece
Department of Urban Studies and Planning
Interdisciplinary Centre of the Social Sciences (ICOSS)
219 Portobello
Sheffield
S1 4DP

Profile

I have worked in academic research environments for a number of years, completing my PhD at the Centre for Regional, Economic and Social Research at Sheffield Hallam University in 2015.

This research focused on the role of work in people's experiences of residential mobility and immobility in working-class neighbourhoods. I have since worked at the University of Sheffield on an ESRC-funded project to understand the barriers to reading between parents and young children, focusing on family practices in low-income areas.

I have largely specialised in qualitative research exploring everyday lives, but my academic background cuts across a number of disciplines including history, human geography and sociology. I have previously worked in housing, policy, and research roles in the social housing sector, and maintain a long-term interest in social and affordable housing policy.

I am a Research Associate at the UK Collaborative Centre for Housing Evidence, where I work across a number of projects to produce robust evidence to positively impact housing policy for all sections of society.
Research interests

I am interested in understanding people's experiences of housing and neighbourhood, especially in places which have been seen through official lenses as 'disadvantaged'.

This intersects with a number of other areas, particularly employment and labour markets. I am also interested in understanding how changes in contemporary labour markets towards less secure, low-paid work, relates to people's housing experiences and trajectories.

I have drawn on a range of class-based theories in my work, in addition to using theories of belonging to conceptualise the role of place and relationships with others in daily life.
Publications

Journal articles

Book reviews

Reports