2020 Enterprise and Entrepreneurship Course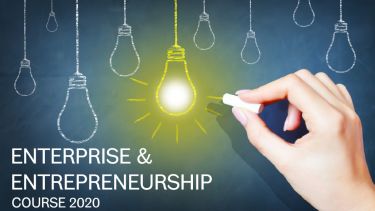 About the course:
You will learn how to evaluate ideas and determine their commercial potential. The objective of the course is to help participants understand how companies are formed and operated.
Topics covered include: 
What is it like and why would you want to be an entrepreneur 
Assessment and evaluation of business concepts 
Routes to market and selling models
Financials
Planning and legal responsibilities 
Funding and retaining your business
Minimum viable products and pivots 
Intellectual property and protecting your business, and 
Planning and pitching your business.
The course is non-credit bearing and will be delivered as a series of 8 on-line workshops and discussions in semester 1.  In semester 2 you will be expected to develop a business plan on your own or in a team. If appropriate, you can use this plan to secure seed funding or support for the future.
Background to the course:
In the last academic year, around 30 people from ACSE (Automatic Control and Systems Engineering) participated in this course. It received very positive feedback and is now being offered to everyone in the University.
Who is it for? 
The course is open to everyone: students, researchers, staff and recent graduates. Anyone who attended the previous course may also attend, there is a lot of new material and the course has been changed to use more interactive discussions, slides for each session and the chapters of the workshop manual. For the planned future the course will be delivered entirely on-line.
About the course leader and facilitation team:
The course will be led by Keith Jackson who started life as a university researcher, then worked for a number of startups in the Cambridge "silicon and motorsports fen" before forming his own company making engine control systems. He has also worked for two FTSE 100 engineering companies in senior technical roles. Keith is sponsored by the Royal Society as a Sheffield Entrepreneur in Residence (EiR).  
Keith will be assisted by Michael Murray and Ceri Batchelder who are fellow EiRs at Sheffield. Michael has a wealth of experience in the medical industry and Ceri is a master of networking and relationships, essential skills for entrepreneurs.  The team has extensive experience in engineering, medicine and science but the majority of the content is applicable to any business venture.
To register: 
Please complete this application form.  The deadline for applications is Sunday 18th October 2020.
The course will run on Wednesdays at 5pm, starting in week 5, with spaces limited to 40. The course is also being run in ACSE on Tuesdays at 5pm and it may be possible to join the ACSE course if there are timetable clashes.  Priority will be given to applicants who cannot attend in future years.
Undergraduate scholarships
Our department offers financial assistance in the form of scholarships and bursaries, in addition to the scholarships offered by the University of Sheffield.
A world-class university – a unique student experience
Sheffield is a research university with a global reputation for excellence. We're a member of the Russell Group: one of the 24 leading UK universities for research and teaching.