ACSE develops exoskeleton that could support MS sufferers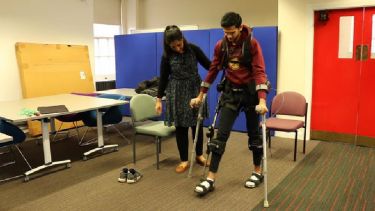 The Phoenix Exoskeleton is at the centre of a new collaborative study being carried out by the University of Sheffield, Sheffield Hallam University, and the Royal Hallamshire Hospital, examining how the suit could improve physical fitness in people with mobility issues.
The £40,000 year-long study is being funded by The MS Society, which is seeking to reduce issues such as high blood pressure, stroke, obesity, and depression in people with MS, by helping them to increase their physical activity.
Dr Susan Kohlhaas, director of Research at the MS Society, said:
"Exercise is not a 'nice to have,' it's a proven way for people with MS to slow the build-up of disability, improve their symptoms, and even boost their mood.
"That's why we're so proud to be investing in this exciting new project in Sheffield.
"If successful, it has the potential to have a huge impact on our community."
Volunteers for the study, which will launch in April, are being recruited now. The project will see 12 volunteers exercise regularly using the Phoenix Exoskeleton, and their progress monitored.
Dr Siva Nair and his team, from Royal Hallamshire Hospital, are tasked with assessing the performance of the 12 participants.
He said:
"Robotics is a natural step forward here. By embracing this technology we are giving people who can't walk the chance to exercise like everyone else.
"We understand it's not every day you see someone in a robot suit, and society might need to adjust to such a weird and wonderful sight.
"That's why we're also going to be observing the personal implications of keeping fit in this way – including whether the person wearing the exoskeleton feels it's an accepted way to exercise."
Research suggests people with MS should do moderate exercise for 30 minutes, three times a week, but many find this difficult due to symptoms caused by the condition.
The suit requires active participation from whoever is wearing it. You need to engage with it, and be taught how to shift your body to control it.

Initial studies have shown that the robot suit can help patients to improve their gaits, and that's part of what we're hoping to see in the next year.

This feasibility study will be gauging a lot of things - including speed of walking and heart rate, to ensure the suit is helping the participant to reach a level that could be considered a type of exercise, as well the psychological effect on the participant of being able to exercise independently and enjoy increased mobility.

Dr Mahnaz Arvaneh

Lecturer in The Department of Automatic Control and Systems Engineering (ACSE)
Zaynah Khan, a student at the University of Sheffield doing her Masters in Bio-engineering, is working with Dr Arvaneh to train participants in the use of the suit.
She said:
"The first thing I do with anybody who is going to be wearing the suit, is take tibia, fibia and spine measurements, so it can be adapted to fit the person properly.
"I then set about teaching them how to use the controls in the crutches to stand up, sit down, and walk.
"It's a bit like learning to ride a bike or drive a car, it's a muscle memory process, but the more you practise the easier it becomes."
Muhammed Saleem, a student in the department of Materials Science and Engineering at the University of Sheffield, volunteered to take the suit for an early spin, and revealed his response was surprisingly emotional.
"As somebody who doesn't have mobility issues, I did find my first practise with the suit quite emotional, giving myself over to this machine and relying on it for every basic movement,"
he said.
"I spent about 40 minutes wearing the suit, and felt more comfortable and confident in it the longer I wore it.
"It's absolutely up to the job, and I think once people have developed their coordination in it, it's going to make a big difference to those taking part in this study."
Flagship institutes
The University's four flagship institutes bring together our key strengths to tackle global issues, turning interdisciplinary and translational research into real-world solutions.