ACSE's Professor George Panoutsos is the new Faculty Director for Research and Innovation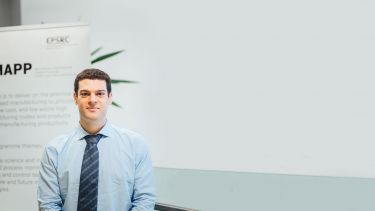 Professor Panoutsos was appointed to the FDRI role for a term of three years, which he started in September 2019.
We had a chat with George about his new appointment and what he hopes to achieve over the next 3 years.
Career
I came to Sheffield as a postgraduate student in ACSE in 2003, studying Advanced Control and Systems Engineering, which was followed by a PhD degree in Granular Computing in 2007 (Granular Computing). I then had a duration as a postdoctoral researcher in Machine Learning, Manufacturing in the same department, before being appointed to Lecturer in November 2009. In January 2019 I was promoted to Professor of Computational Intelligence.
Research
My research contributions include theory and applications of Computational Intelligence, with a focus on data-driven process modelling and optimisation methods as well as interpretable machine learning via rule-based systems.
Part of my research work sits at the interface between machine learning, systems engineering and control systems, with applications primarily in manufacturing, but also in healthcare as well as infrastructure.
My research work in monitoring and optimisation of manufacturing processes includes impact on high profile commercial products in the aerospace sector (Boeing 747-400, Embraer Legacy 450, Airbus AA380), as well as in automotive (Citroën, Peugeot) and consumer electronics (Apple iMac, Bang & Olufsen speakers).
Multidisciplinary Approach
In my academic career path so far, a lot of my theoretical research has been shaped by attempting to address real-world challenges.

George Panoutsos

Faculty Director for Research and Innovation
I have been the beneficiary of the excellent multidisciplinary research culture in the Faculty of Engineering, which enabled me to understand and work on research problems beyond my discipline. During my appointment process to the FDRI position, I came to realise that I have active research grants with every engineering department in the Faculty, as well as active projects with institutes beyond our Faculty, such as the AMRC, Department of Music, Department of Psychology, Oncology and Metabolism, and Medical School, to name a few.
As FDRI I am very keen to use this experience to continue fostering research across the disciplines, by developing relevant strategy and directly supporting our staff.
Research Excellence & Quality
I have already had several handover and introductory meetings with relevant academic, management and support staff in the Faculty, as well as in the wider University. I've been fascinated by the knowledge available, complexity and depth of processes and mechanisms, and overall quality of our people in Engineering. To me, there is no doubt that positioning ourselves as a world-leading engineering Faculty is a result of a systematic approach, as exemplified by the recent success in research income and investment that reached national news.
However, I believe we could do more to celebrate, reflect upon and recognise the excellence and quality of the research that results from our impressive research income performance. There's not just an input-output relationship here between income and research outputs, this is frankly a feedback loop; we wouldn't be able to achieve such income success, if we were not excellent in research in the first place.
I have made this one of my top priorities for my tenure as FDRI, with a broad remit spanning, for example, highlighting and recognising our research outputs and impact more, further emphasising research excellence in our PhD cohorts, as well as staff appointments and promotions.
Research excellence, quality and rigour are challenging to quantify, but I'd like to support all our staff (and help improve processes) to identify and highlight such traits more. In the home straight to the REF2021, perhaps, there's no better way to exemplify this, by fully and meaningfully engaging with the process; not just to develop the best return we can that truly reflects our excellence, but also to use the information captured to reflect and plan for the future.
There are quite a few other topics in my immediate sight, such as support for mid-career researchers, strategic industry partnerships, impact to societal challenges, however our overarching vision does not change, it is still to compete to be the best engineering faculty in the UK and to be amongst the best in the world. Towards achieving this, I look forward to developing strategy together, while emphasising quality and excellence across the full spectrum of our research and innovation activities.
Find out more about Professor George Panoutsos.
A world top-100 university
We're a world top-100 university renowned for the excellence, impact and distinctiveness of our research-led learning and teaching.