Engineering student is finalist at the Undergraduate of the Year Awards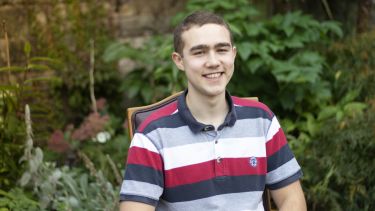 University of Sheffield student Samuel Rhodes who's studying MEng Mechatronic and Robotic Engineering with a Year in Industry, has been nominated as a finalist for the Undergraduate of the Year for Excellence Through Adversity Award. 
Last year, Samuel, a student in the Department for Automatic Control and Systems Engineering, decided to take some time out from studying in Sheffield and choosing instead a Year in Industry allowing him to work from home and support family during illness. 
Despite a difficult time Samuel, performed superbly as an Automation and AI Engineer at Siemens during his placement year, maintained excellent academic grades and decided to apply for the Undergraduate of the Year Awards. 
The Excellence Through Adversity award is sponsored by Rolls-Royce and as part of his application, Samuel was able to identify important areas for the future of the company. These included more flexible financing, so the business can remain stable during shocks like the Covid-19 pandemic and support more rapid innovation, as well as identifying that cyber security will become increasingly important to protect the valuable data Rolls-Royce relies on for manufacturing. 
Following his successful application, Samuel passed online assessments and was then invited for two days of face-to-face interviews, group challenges and networking sessions where he met Rolls-Royce employees. 
Whatever happens at the awards ceremony on Friday 29 April 2022 Samuel's proud of how much he's grown as an individual.  
"I've really developed my emotional intelligence skills over the past couple of years. Whilst I've struggled with my own mental health, and learnt to support my family's, I've seen the value in talking through my problems and I encourage others to do the same." 
Best of luck to Samuel for the finals.
Undergraduate scholarships
Our department offers financial assistance in the form of scholarships and bursaries, in addition to the scholarships offered by the University of Sheffield.
Explore the University
Discover what sets Sheffield apart at our next on-campus open day.