Prestigious award for robotics graduate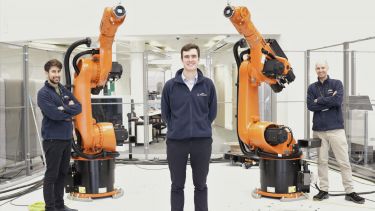 Sheffield MEng Mechatronic and Robotic Engineering graduate Gianmarco Pisanelli has won a prestigious Community Award from the UK Robotics and Autonomous Systems (UK-RAS) Network, who launched their first ever awards in 2021. 
Gianmarco who works as a Control and Systems Engineer at the University's Advanced Manufacturing Research Centre (AMRC), received the Community Award for "making a difference in UK Robotics and Autonomous Systems" and in particular "for excellent community-building activities in the RAS Community and beyond".
Gianmarco who graduated in 2019 has been working for the Integrated Manufacturing Group within the AMRC, building a community of robotics researchers to help deliver pioneering work in this area. 
He led the coordination of the UK-RAS Manufacturing Robotics Challenge 2021, which was a three day hackathon style challenge for recent graduates to use robotics in an innovative way for safety and security. It introduced cutting edge ideas for Industry 4.0 and digital twinning involving both simulation and live environments.  
Lastly, he was recognised for mentoring junior engineers and researchers and encouraging development of their skills in Robot Operating System (ROS) to create a small community of enthusiastic researchers within the AMRC. Overall helping to bridge the gap between academic and industrial communities. 
Stay connected with your University
Experience all the benefits and services that come from being a Sheffield graduate.