RAEng Visiting Professor from Airbus will provide perspectives on current and future aerospace manufacturing needs for engineering graduates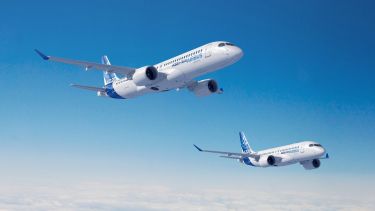 VP's are professional engineers who have a vision, act on that vision and make a lasting difference to universities, students, employers, and the profession.
Professor David Harra, RAEng Visiting Professor in Digital Manufacturing for Aerostructure Assembly, has extensive experience of manufacturing in the aerospace industry across Europe. In his current position as the Head of Assembly Technology at Airbus, he has a team based across the European manufacturing footprint.
Prof Harra joined Airbus as part of a graduate programme himself so has a good understanding of what industry are looking for from their graduate employees. He has also managed a number of graduates so is well placed to prepare our students for life in industry.
Prof Harra is the industrial lead on an industrial training programme module, hosted by the Department of Automatic Control and Systems Engineering (ACSE). As part of this role, he will create the student project themes and will contribute to marking and assessing the final student reports and presentations - ensuring feedback covers both academic and industrial perspectives.
As part of the scheme each VP needs an academic champion and in Prof Harra's case this is ACSE's Professor Ashutosh Tiwari, Airbus / RAEng Research Chair in Digitisation for Manufacturing.
Prof Tiwari leads a research group in digital manufacturing at the University and has developed strong research links with Airbus, creating a pipeline of low Technology Readiness Level (TRL) research for Airbus and its supply chain partners. Prof Harra's RAEng VP award further strengthens the collaborations between Airbus and the University of Sheffield and grows the links into our teaching activities.
David was an obvious choice for the RAEng VP scheme. With his extensive experience in manufacturing and his passion to help the future generation of engineering graduates, I know his lead on the industrial module would benefit both the students and Airbus.

Professor Tiwari

Airbus / RAEng Research Chair in Digitisation for Manufacturing
Prof Harra officially started his professorship in September 2019, with a focus on 3 key areas:
1. Curriculum and strategy development
Provide perspectives on current and future aerospace manufacturing needs for graduate systems and control engineers to influence future course development.
2. Face-to-face teaching
Support a module that has been designed to prepare students for professional practice, via a real industry-led group project in aerospace engineering.
3. Mentoring of engineering undergraduates
Mentor University of Sheffield's engineering undergraduate students on technical and leadership skills.
Prof Harra said,
"The Industrial focussed projects will give students a taste of working in the real world, on real life projects. It will show them how their control knowledge can be applied to technical challenges that they will face in industry."
He adds:
"Students need theory and knowledge but they also need to be able to work alongside people at every level, not just other engineers. This position is not only about helping students apply their learning but also to help develop them as people, creating effective communicators, team players and graduates that can work alongside all stakeholders."
The students will not only get to chat and interact with Prof Harra at the University, but they will also get the opportunity to visit Airbus, giving them a realisation of the scale and size of industry and how their University work will be applied. It will help to get students excited for a career in the manufacturing industry but also opens their eyes to the extensive careers available to them within the sector.
Prof Harra concludes:
"I noticed shortfalls in students coming through to industry. Enhancement of the career development cycle will properly prepare graduates for life after university - equipping them with the transferable knowledge and skill required for their future engineering careers."
ACSE will use the knowledge and skills of Prof Harra to help engineering students become more employable, better understand how to apply what they learn, and contribute as professional engineers in industry and commerce more rapidly.
The RAEng VP scheme recognises that engineering education is not simply the accumulation of knowledge, but should identify with the process of engineering through the stages of creativity, design, and innovation.
A world top-100 university
We're a world top-100 university renowned for the excellence, impact and distinctiveness of our research-led learning and teaching.