Sheffield engineers to help industry produce ultra-thin coatings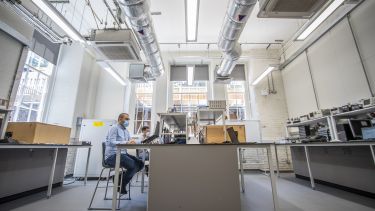 Dr John Oyekan and Professor George Panoutsos from the Department of Automatic Control and Systems Engineering will start working on a new EPSRC (Engineering and Physical Sciences Research Council) research project that will develop the ability to make ultra-thin coatings in laboratories and upscale them for industry.
Ultra-thin coatings, or advanced nanoparticle products, are being increasingly used commercially in the pharmaceutical industry when making vaccines and anti-cancer drugs. Precision smart coatings are also being used in wearable technologies, medical imaging and in high efficiency solar panels. 
Sheffield academics will work with colleagues from the University of Leeds to build advanced chemical reactors, underpinned by the latest cutting edge machine learning, to maintain the precise dimensions of the polymer nanoparticles. They will then work to scale up the production for manufacturing, without loss of the precision achieved in research laboratories. 
Dr Oyekan said "This is a fantastic project as it will provide an opportunity for us to apply our world leading expertise in developing machine learning algorithms for manufacturing and apply them to nanoparticle synthesis, which are increasingly needed in manufacturing new products."
Researchers will fine tune the process in the laboratory and roll it out in different manufacturing environments with project partners including AstraZeneca, Samsung and Simaserve. The project will aim to encourage further innovation in nanoparticle products beyond the lifetime of the project. 
Undergraduate scholarships
Our department offers financial assistance in the form of scholarships and bursaries, in addition to the scholarships offered by the University of Sheffield.
Flagship institutes
The University's four flagship institutes bring together our key strengths to tackle global issues, turning interdisciplinary and translational research into real-world solutions.