Sheffield robotics showcase at ICRA 2023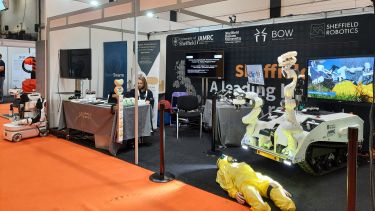 Researchers from the Department of Automatic Control and Systems Engineering (ACSE) presented their robotics research at the International Conference on Robotics and Automation (ICRA) 2023 in London.
ACSE collaborated with the Advanced Manufacturing Research Centre (AMRC), Sheffield Robotics, Sheffield Hallam University and BOW on a Sheffield stand demonstrating the expertise that the city has in robotics. 
The ACSE robotics research that was presented at the stand included: 
MediTel: technology to triage injured military personnel (Professor Sanja Dogramadzi and Dr David King) 
Motion Capture Pillow - device to support patients receiving Head and Neck radiotherapy (Professor Sanja Dogramadzi) 
HyMod v2 - a force-aware reconfigurable robot (Dr Roderich Gross) 
Remote robotic implant (Dr Shuhei Miyashita) 
Resilient soft robots (Dr Dana Damian)
Dr Lin Cao and Professor Sanja Dogramadzi presented a workshop on the final day at the conference Force and Shape Perception for Surgical Instruments and Robots. The workshop aimed at bringing engineering and clinical experts together to develop force and shape sensing, estimation, and display technology for safe clinical procedures.
Also two researchers, Yue Yao and Sabeethan Kanagasingham from ACSE won the first prize in the Manufacturing Robotics Challenge at the conference.
Flagship institutes
The University's four flagship institutes bring together our key strengths to tackle global issues, turning interdisciplinary and translational research into real-world solutions.