Sheffield robotics students take part in SwarmHack 2022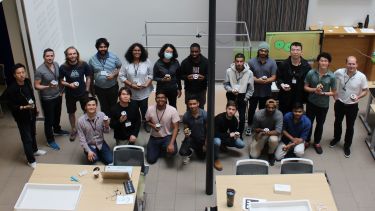 Students from Sheffield participated in the first ever SwarmHack 2022, a hackathon over three days where they learnt about operating robot swarms remotely together with students from the University of York and the University of Manchester. 
SwarmHack 2022 was funded by the UK Robotics and Autonomous Systems (RAS) Network and involved groups of undergraduate, masters and PhD students at three institutions simultaneously learning from swarm robotics experts, networking and competing in challenges to operate robot swarms. 
The students worked in groups with Pi-puck and MONA robots, small robotic devices on wheels with sensors that can be programmed to move and communicate with each other. Each group was given an example python script used to control five robots and they were programmed to understand if they were in a 'task zone' and how many robots were needed to complete the task.   
The programme included an invited talk by Professor Robert Richardson (University of Leeds and Chair of the UK-RAS Network), a panel discussion with Professor Sabine Hauert (University of Bristol) and Professor Amanda Prorok (University of Cambridge) and further presentations by Dr Alan Millard (University of York) and Dr Farshad Arvin (University of Manchester).
Swarmhack at Sheffield was facilitated by Dr Roderich Gross, Senior Lecturer in the Department of Automatic Control and Systems Engineering and head of the Natural Robotics Lab at the University of Sheffield. 
Dr Roderich Gross said:  
"SwarmHack 2022 is the first time that robot swarms in one UK university have been controlled by two different UK universities, which is exciting both technologically and educationally."
"It is inspiring to see the level of collaboration between the students, staff, and the technical departments at Universities of York, Manchester and Sheffield to make SwarmHack '22 a success." 
"It's been an engaging three days, full of joy. One of my personal highlights was when a robot had toppled over and was remotely 'repaired' by the other robots. I'm excited about the opportunities that these technologies will offer, within an educational setting and beyond."
Undergraduate scholarships
Our department offers financial assistance in the form of scholarships and bursaries, in addition to the scholarships offered by the University of Sheffield.
A world top-100 university
We're a world top-100 university renowned for the excellence, impact and distinctiveness of our research-led learning and teaching.