Sheffield students present their research at UK's leading robotics conference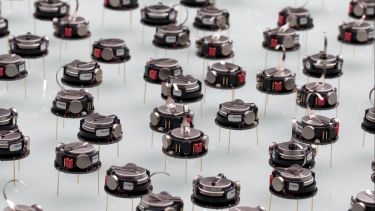 A group of talented undergraduate and masters students studying engineering at the University of Sheffield presented research at the Towards Autonomous Robotic Systems (TAROS) Conference - the UK's leading conference in robotics, that took place at the University of Lincoln 8 - 10 September 2021. 
Arjan Dhesi (BEng Computer Systems Engineering) presented research as part of his undergraduate dissertation. His work on Area Coverage in Two-Dimensional Grid Worlds Using Computation-Free Agents proposes a new solution for a swarm of robots to spread evenly in a large, bounded environment. The solution doesn't require the robots to have run-time memory, and so could be applied to robots with low hardware capabilities. 
The second research project, A Minimalist Solution to the Multi-Robot Barrier Coverage Problem, proposes solutions to enable robots to cover the boundary surrounding a group of moving objects. Possible applications of such swarm technologies include sheep herding, mine sweeping or even cleaning oil spills at sea. The current work is conducted using simulated Pioneer P3-DX robots. Future work will investigate how to translate the simulation to robots in the real world.
The third research project was from Rory Haggart (MEng Aerospace Engineering with a Year in Industry) who presented work from his undergraduate dissertation Online Scene Visibility Estimation as a Complement to SLAM in UAVs. It investigated a common problem with vision-based robot navigation algorithms whereby atmospheric conditions such sunlight, fog or dirt on the lens can cause errors. The research shows that by refining the algorithm and making some inexpensive computational changes, the quality of the images being fed to the navigation algorithm can be better evaluated. In the future this will allow algorithms to tune out some of the external interferences and adapt their performance, improving the accuracy of vision-based algorithms under real-world conditions.
The research was supported and research papers co-authored by Dr Roderich Gross and Dr Jonathan Aitken from the Department of Automatic Control and Systems Engineering. 
The students presenting A Minimalist Solution to the Multi-Robot Barrier Coverage Problem are:
Thomas Green (MEng Aerospace Engineering with a Year in Industry) 

Kevin Kamel (MSc Autonomous and Intelligent Systems) 

Siyuan Li (MEng Mechatronic & Robotic Engineering) 

Christopher Shinn (MEng Aerospace Engineering)

Paolo Toscano (MEng Aerospace Engineering)

Xintong Wang (MSc Robotics)

Yuchen Ye (MSc Robotics)
A world-class university – a unique student experience
Sheffield is a research university with a global reputation for excellence. We're a member of the Russell Group: one of the 24 leading UK universities for research and teaching.