Autonomous Systems and Robotics Research Group
This research group carries out world leading research in autonomous processes and autonomous robotic systems by investigating key research problems of sensing, control, decision making and system integration.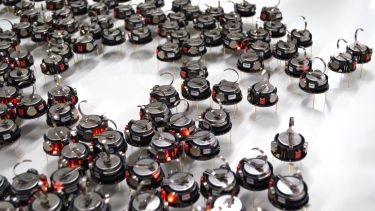 The group is a major contributor to the activities of the Sheffield Centre for Robotic Research (SCentRo).
The collective competence of the group is unparalleled in the UK and covers most essential topics of this area: design of autonomous industrial robots, condition monitoring for fault tolerant autonomous systems, biologically inspired principles of sensing and control, international standards for autonomous robots, self-assembling robotic systems and swarms, advanced software architectures for decision making, autonomous hybrid systems modelling, formal verification, and distributed and parallel control systems.
Research themes
We are currently working on a number of projects, including Distributed Sensing and Control of Multiagent Systems, Self Reconfiguring Autonomous Systems, Self-assembling Robotic Systems and Swarm Robotic Systems.
Collaborations
At the Autonomous Control Laboratory we collaborate widely, with other universities, industrial partners, governmental departments, and with national and international standards bodies.
Thales UK

We collaborate with Thales UK on the development of intelligent autonomous surface vehicles which can cope with rough weather conditions to complete a mission without human supervision.

National Nuclear Laboratory and Sellafield Ltd

We are working on the use of autonomous robotic operations in decommissioning tasks with the National Nuclear Laboratory and Sellafield Ltd.

BAE, Schlumberger, Network Rail, and SciSys

We work on plug-and-play autonomous system components and systems in collaboration with a group of companies who have identified autonomous systems as an important area for investment.

SMEs

In collaboration with a number of SMEs, we work on the development of autonomous vehicles and manufacturing / laboratory robots which need very little human supervision and hence increase their user's efficiency and productivity.
People
With eight core academic members, who supervise many researchers, PhD students, and MSc students, we are an internationally renowned group in the area of autonomous systems and robotics.
Environment
Our research environment has a strong industrial focus and delivers impact through strategic partnerships with world-class engineering companies and via industrial research institutes.
Autonomous Control Laboratory
Led by Professor Sandor Veres

The Autonomous Control Laboratory provides equipment, instrumentation and tools to build and maintain embedded computing boards and sensors onboard autonomous vehicles and robots.

The laboratory has a fleet of quadrotors, rovers, model aircrafts with onboard computers for sensing, decision making and feedback control. The laboratory also has a pair of robotic arms with advanced computer vision to be used for autonomous materials handling and manufacturing projects. 

Natural Robotics Laboratory
Led by Dr Roderich Gross

The Natural Robotics Lab provides facilities to experiment with medium-sized teams to large-scale swarms of autonomous robots.

The laboratory has various mobile and modular reconfigurable robotic platforms with more than 150 robots in total. It has a state-of-the-art equipment base including a 3D printer, motion tracking system, and a projector-based virtual environment.

Assisted Living and Service Robotics Laboratory
Led by Osman Tokhi

The laboratory is used to support the hardware work of a number of postgraduate students and it has state of the art equipment for embedded and realtime computing.
Laboratory presence at Sheffield Robotics
Robotic laboratory for the food and aerospace manufacturing industries (led by T Dodd)
Swarm robotics floor and demo facility (led by R Gross)
Spacecraft autonomy testing facility with 5DOF models and facility to carry out hardware-in-the-loop testing of industry hardware (led by S Veres)
Assisted living, healthcare and service robotics (led by O Tokhi)
Autonomous car/rover hardware in the loop testing with real vehicles (under construction, led by S Veres)
Our presence at Sheffield Robotics displays the broad scope and internationally leading research carried out by the Autonomous Systems and Robotics Group.
Undergraduate scholarships
Our department offers financial assistance in the form of scholarships and bursaries, in addition to the scholarships offered by the University of Sheffield.
Flagship institutes
The University's four flagship institutes bring together our key strengths to tackle global issues, turning interdisciplinary and translational research into real-world solutions.