BSc Speech and Language Therapist Degree Apprenticeship
This four-year degree apprenticeship allows you to combine work and study, and qualify to practise as a Speech and Language Therapist.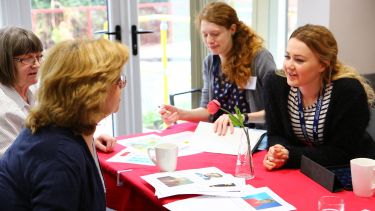 Off
Programme description
Programme lead: Dr Catherine Tattersall
On this programme you can qualify as a Speech and Language Therapist through a combination of work-based learning and online study. You'll spend 40% of your time learning from experts here in the School of Allied Health Professions, Nursing and Midwifery at the University of Sheffield, or on placements that give you experience of a wide range of speech and language therapy roles. The rest of your time, you will be putting your learning into practice on the job with your employer.
As the organisation responsible for delivering your programme, we will work closely with your employer. You will have a personal tutor at the University and a clinical mentor in your workplace, plus educators at your placement providers to support you. They will help to ensure that you can develop the knowledge, skills and behaviours that a Speech and Language Therapist needs in order to qualify and practise, as set out by the Institute for Apprenticeships and Technical Education, and the Royal College of Speech and Language Therapy.
Accreditation and the apprenticeship standard
This programme is approved by the Health and Care Professions Council and accredited by the Royal College of Speech and Language Therapists. It also meets the speech and language therapist (integrated degree) standard defined by the Institute for Apprenticeships and Technical Education.
About the integrated degree standard
Duration
Four years, full-time
Teaching
All university teaching and learning is delivered by live, synchronous learning, so there is no requirement for you to come onto campus. You will have access to all of the same services and support as students who are on campus.
Your time at university is split into 15 study blocks. You will complete four of these in each of the first three years, and three in your final year. Each block usually starts with five days of online, synchronous learning with university tutors, followed by around 10 weeks of completing study tasks you have been set, alongside self-directed learning. 
In line with Royal College of Speech and Language Therapy guidance, you will spend 150 hours on supervised placements in both adult and paediatric (children and young people) settings.
You will have tripartite progress review meetings every eight-to-12 weeks with your university personal tutor and your line manager/clinical mentor.
Assessment
Each study block includes an assessment. At the end of your four years, you will complete an End Point Assessment (EPA). Passing this allows you to qualify and practise as a Speech and Language Therapist.
Entry requirements
A Levels: ABB
BTEC Extended Diploma: DDD in a healthcare or science subject
Access to HE Diploma: Award of Access to HE Diploma in a relevant subject, with 45 credits at Level 3, including 36 at Distinction and 9 at Merit
We can also accept other, equivalent Level 3 qualifications. Contact us if you have any questions about your qualifications.
Other requirements
Employment as a Speech and Language Therapist Apprentice – confirmed by your employer.
Three GCSEs at grade C/4 or above, including Mathematics and English Language. Level 2 equivalent qualifications (eg, Functional Skills) are also accepted but must have been achieved at the point of enrolment
A satisfactory Disclosure and Barring Service (DBS) Enhanced Disclosure check (or EU equivalent)
A satisfactory occupational health screening report
English language requirements
​​You must demonstrate that your English is good enough for you to successfully complete your course. For this course, and to apply for registration with the Health and Care Professions Council, we require: GCSE English Language at grade 4/C; IELTS grade of 8.0 with a minimum of 7.5 in each component; or an alternative acceptable English language qualification.
A world-class university – a unique student experience
Sheffield is a research university with a global reputation for excellence. We're a member of the Russell Group: one of the 24 leading UK universities for research and teaching.