University students recognised in International Nurses Day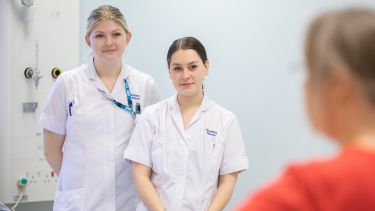 Today, the University of Sheffield is honouring the incredible nursing staff who collaborate with, or work at, the university. From research and teaching, to mentorship on placements, the nurses we work with make a real difference to patients' lives. It's also important to recognise the commitment shown by our student and apprentice nurses.
This year's International Nurses Day theme is 'Our nurses. Our future', which aims to shine the light on nurses and on a brighter future, moving nurses from invisible to invaluable in the eyes of policy makers, the public, and all those who make decisions affecting the delivery and financing of health care. To highlight this, we spoke to staff and students at the university about the importance of International Nurses Day.
---
"I'm proud to be a mental health nurse. Our work is complex and clinical. Patients deserve the best care and nurses deserve the education and opportunities to provide this care. The future for nurses should be a priority for the government."
Helen Stewart, Senior Clinical Practitioner
---
"The ladies and gentlemen in these photos are our brighter future. Former students who have gone on to be invaluable in their chosen careers. Look after them. Be as proud of them as I am I. They are our future."
Andrea Fox, Senior University Teacher and Registered Nurse
---
"My role as a nurse lecturer is to help nurture and develop the ' future' nurses, who can demonstrate resilience and courage to speak up and stand up for what is right and uphold the professional values of the profession. Self-care and being able to recognise signs of vulnerability in both ourselves and our colleagues is essential in developing a more resilient workforce who are able to shape health and social care."
Rachael Duckworth, University Nurse Lecturer
---
We think of life as a given gift and health in this aspect too. Nurses are people that take on the responsibility of nurturing a sick patient back to recovery, or provide comfort on their exit from this world. With what strength the human heart can hold nursing is the greatest.

Salma Naheed Lone

Student Nurse
---
"'Our Nurses. Our Future.' is a theme that speaks directly to my heart. This year I will submit my PhD thesis after being invested in as a nurse and given a voice to create change."
Sarah Varga, Staff Nurse/Clinical Academic Nurse
---
It is almost a lifetime since I took my first steps into nursing. I have never regretted my career decision and have gained and learnt so much. Equally, we have the potential to make a huge difference as individuals and as a profession to those we support and care for.

Professor Julie McGarry

Professor of Nursing and Gender Based Violence
---
Student and apprentice nurses are the future of the profession. To find out more about our undergraduate and postgraduate courses, take a look at our course pages.
A world-class university – a unique student experience
Sheffield is a research university with a global reputation for excellence. We're a member of the Russell Group: one of the 24 leading UK universities for research and teaching.