Nursing (Adult) BMedSci course selection process
The information on this page relates to the application and selection process for the Nursing (Adult) BMedSci programme.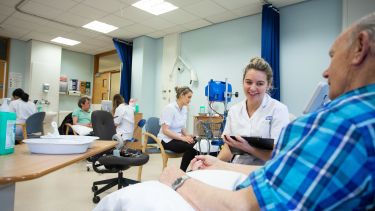 On
Full entry requirements can be found on the course webpage:
If your specific qualifications are not listed, please contact us for advice.
---
Applications to the course must be made via UCAS.
Contacting us before you apply
You are welcome to contact either the admissions tutor or the programme leader to discuss your application prior to submitting it via UCAS.  Please be aware that a decision cannot be made in relation to the likelihood of success until your application has been processed.
Personal statements
The main things that we look for in a personal statement are a commitment to adult nursing, relevant experience and values suited to nursing. We also look at the presentation of the personal statement.
Show a clear commitment to adult nursing – where possible support this with evidence of relevant experience.  Ensure that you demonstrate values which align closely with those outlined in the NHS Constitution.  Take care with the presentation of your application form – check that spellings, grammar and punctuation are accurate.  Ensure that you list all of your qualifications and experience on the form and include a reference.
If your personal statement refers to a different course, send it to the admissions tutor via email with your rationale for the change.  Ensure that you include your full name and UCAS number in your email.
Criminal convictions
Having a criminal conviction or a caution would not automatically exclude you from a nursing programme. When you apply via UCAS you need to tick the box declaring your conviction/caution. If your application is shortlisted we will get in touch to ask for more details of your declaration. Depending on the information provided we may share your details with one of our placement providers to ensure that they would be willing to offer you placements. If they are willing we would continue to process your application as normal. Unfortunately if the placement providers feel unable to offer you placements then we would not be able to take your application forward.
Candour is a vital attribute for nursing and, as such, you are encouraged to declare the conviction/caution at the earliest opportunity.  Not doing so could have consequences for your ability to join or continue on the programme or on your eligibility to register as a nurse.
Transfers
All applications, including transfers, are considered on their individual merits and you would need to contact the admissions tutor to discuss this further. 
If you started a nursing programme at a different University and left/was asked to leave, you would need to contact our admissions tutor. We would need to look into your reasons for not completing the course elsewhere and we would need to obtain a reference from your former course leader. You are unlikely to be successful if your non-completion was due to academic/practice failure.
Unsuccessful applications
If your application is unsuccessful, you may re-apply but not in the same admissions cycle as your original application.
Special needs/additional requirements
You are very welcome to discuss your requirements with the admissions tutor or the course leader before you apply to the programme. Wherever possible we do our best to accommodate additional requirements.
---
We welcome applications from mature students and value the life experience they bring to the programme.
At the moment the course is not open to international applicants. Only Home and EU applicants are eligible to apply.
If you are an international student and residing in the UK, then this depends on your individual circumstances and what visa or residence permit (BRP) you are already on.  Our nursing programmes are only open to to home fee payers and we can only conduct a full fee status assessment once an application is received. 
You could consult UKCISA guidelines and they can check your eligibility there.
---
Once you've applied, UCAS forward the application to our central admissions team who then pass the application on to the admissions tutor in the Division of Nursing and Midwifery. 
The admissions tutor checks whether your qualifications meet the entry requirements and reads your personal statement and reference before making a decision on whether to shortlist your application. 
Shortlisted applicants are then invited to attend a virtual interview usually via Google Meet.
Presentation and interview
At your virtual interview you will meet your interview panel and give a five-minute presentation to them. The topic of the presentation will be sent to you in your invitation to the virtual interview. After your presentation you will have a 20-minute individual interview, have an opportunity to ask any questions  before you are free to leave.
Your presentation must not be longer than 5 minutes. It's important that we stick to the time limit in order to avoid giving any unfair advantages. Also we don't like to keep the other candidates waiting too long! If your presentation goes over time we may ask you to end your presentation even if you still have more to say.
The interview panels will usually comprise one member of the academic team and one Registered Nurse from one of our clinical partners. On some panels a 3rd year student nurse or patient/service user representative may also be present.
Our interviews are relatively informal and nothing to feel nervous about! Candidates who do well tend to be those who know what nursing involves, and why it is the career for them. We also look for candidates with values suited to nursing and those with an awareness of current issues in nursing.
Requesting an alternative virtual interview 
If you are unable to attend the virtual interview please let us know and we will provide an alternative date where possible.  You will usually be offered a maximum of three dates before your application is withdrawn. If you do not attend the interview and do not make contact beforehand or on the day then your application will be rejected.
Special requirements
Contact the admissions team and we will do our best to accommodate your requirements if we have been notified of them in advance of the interview day.
Providing a photo ID 
You need to provide photographic ID prior to your virtual interview so we can be sure that the person attending the interview is the person named on the application form.
Interview feedback
Following your interview, we are happy to provide feedback via email or telephone. Contact the admissions tutor to arrange this. Due to the number of applications received we do not usually offer face-to-face feedback. 
---
Your course comprises 50% theory and 50% practice.  This means that half of your time on the course will be spent on placements. 
Your placements will take place across a broad spectrum of settings – from placements with district nurses to medical or surgical wards or critical care areas.
Placement localities
If you are shortlisted for an interview you will be asked to identify your preferred placement locality at the start of your programme. 
Upon being offered and accepting a place on the course you will be allocated a placement locality and you will stay in this locality for the duration of your course. 
Placement localities are:
Sheffield
Doncaster and Bassetlaw
Rotherham 
Barnsley
Chesterfield
All of your placements – whether community or hospital-based – will take place in that locality. We cannot guarantee you will be allocated your first choice. Please be aware that on occasion it has been necessary to allocate the student's 5th choice. However, all the placement localities offer excellent student opportunities and support and have very good transport links.
As a student nurse you will experience a wide range of placements but we feel that it important to experience these within one local area. Whilst healthcare providers do follow the same guidelines/standards of practice there may be some variations – particularly in relation to paperwork and routines, for example. Rather than learning new processes in each placement area it is more appropriate to focus on learning new knowledge and skills without spending time on each placement going over how to complete their paperwork, for example. Also, by remaining in the same placement locality you experience continuity of care and are more likely to feel part of the team within the organisation.
We do not offer placements outside of the localities mentioned above. The University of Sheffield has contracts with healthcare providers across South Yorkshire to provide placements for our students. Other universities will have contracts with the healthcare providers in their local areas to provide placements for their own students and so will not be able to provide additional placements for students of other universities.
---
You will not be notified of the outcome on the day of the interview. Keep an eye on your UCAS Track as this will notify you of the decision. 
We will not be able to discuss the outcome until it shows on your UCAS Track. We aim to inform applicants of the outcome of their interview within 10 working days.   During busy periods it may take longer for a decision to be processed.
The decision may be delayed if we are awaiting further information – such as a reference or proof of qualifications. 
Offer holder days
Once you have been made an offer, you will be invited to an offer holder day.  You will get the opportunity to see more of your chosen department, meet staff and students and learn more about your course.
Not achieving the conditions of your offer
If you don't meet the conditions of your offer then you are not guaranteed a place on the course. 
For the BMedSci Nursing (Adult) programme, it may be possible to consider your application via Clearing if you have just missed the conditions of your offer and if places are still available at that time - but there are no guarantees. 
Deferring
If you decide that you want to take some time out before starting the course, this may be possible. You will need to discuss this with the admissions tutor. Please be aware that if a deferral is agreed, you would not be permitted to defer more than once.
Occupational health and Disclosure and Barring Service (DBS) clearance
All offers for nursing courses are subject to health clearance and DBS clearance. A few weeks before your course is due to start we will contact you to undertake an occupational health assessment. This assessment is conducted by the Occupational Health Department at our local Trust. They must assess you as suitable for undertaking a nursing course and the activities that that involves. If you are assessed as unsuitable then unfortunately we would have to withdraw the offer of a place on the programme.
A few weeks before the start of the programme you will be asked to complete a Disclosure and Barring Service (DBS) assessment.  Should this assessment reveal a caution/conviction which has not already been addressed earlier in your application then we may withdraw the offer of a place on the programme.
---
The course will give you everything that you need to prepare for registration as an adult nurse. There are two key areas where people tend to lack confidence and these are biology and numeracy. If you have time, revise body systems in biology and increase your confidence in relation to addition, subtraction, multiplication, division and conversions relating to numeracy. If it's been a while since you studied, you may also benefit from revising study skills. These are only suggestions, and it is not compulsory to do this.
Buying books
We would advise against buying books until you start the course.  Arrive with pens and paper.  If there is anything else that you need we will advise you after starting the programme.
Uniforms
Tunics and trousers will be provided. You will need to provide your own shoes and a coat for when you are on your community placements.
Accommodation
Please see the University's accommodation website for further details
Holidays
You cannot take a holiday which would mean missing a few weeks of the course. There are very strict attendance requirements for nursing courses because it is a Nursing and Midwifery Council requirement that you complete a fixed number of hours in both theory and practice. 
To ensure that you meet these requirements your training plan is set for the full three years of the course. Holidays are fixed throughout that time and you will be advised of the dates if you are shortlisted for interview. Holidays are not permitted to be taken outside of the fixed dates.
---
If you have any questions on any of the above, please contact us.