Health & Wellbeing in Adulthood and Later Life
This research theme brings together the expertise from the School of Allied Health Professions, Nursing and Midwifery in exploring health and wellbeing across the lifecourse, with an emphasis on clinical practice, policy and practice, and an underpinning ethos on social justice.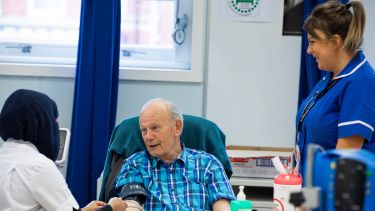 Off
Our interdisciplinary strengths build upon existing skills in qualitative, quantitative and mixed methods research. Previous research across the lifecourse has included the effects of visual and communication difficulties; evaluating the impact of interventions designed to improve health and wellbeing; care and family relationships, identity and intimacy; later life, frailty and co-morbidities; as well as palliative and end of life care. The 'health and wellbeing in adulthood and later life' research theme aims to develop opportunities for knowledge exchange, collaboration, and innovation through a range of activities including seminars, workshops, Patient & Public Involvement (PPI) and grant capture.
Current examples of our research:
The financial and economic costs of palliative and end of life care and financial support for patients and their families
The mesothelioma UK research centre funded by Mesothelioma UK aims to improve the patient and family experience of mesothelioma particularly exploring issues of gender  as well as occupation including those employed as part of the armed forces  
Cognitive neuroscience and communication rehabilitation needs of those with acquired speech and language disorders 
Measuring the outcomes of eye alignment surgery in adulthood, undertaken for psychosocial reasons. 
Measuring how the visual system adapts in individuals with hearing impairment or those who use sign language, and how it adapts to other experiences such as playing sport or action video games, having autism spectrum disorder or visual vertigo.
Theme membership is open to any member of staff including PGRs. The following provides a link to staff involved currently involved:
If you would like to be added, please email us as below with your details, research interest and link to your UoS profile.
Please contact Fiona Wilson or Gemma Arblaster for further details (fiona.wilson@sheffield.ac.uk  and g.arblaster@sheffield.ac.uk).
Flagship institutes
The University's four flagship institutes bring together our key strengths to tackle global issues, turning interdisciplinary and translational research into real-world solutions.