Assessment of Vision and Eye Movement
Research into vision and eye movements is a core theme of the Sheffield Vision Research Centre, and our goal is to have a positive impact on the lives of individuals with nystagmus and other eye movement disorders.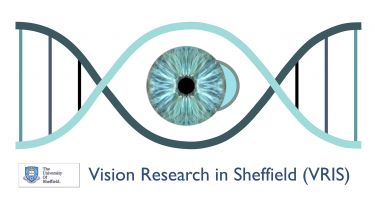 We offer an enhanced curriculum in eye movement recording for our BMedSci (Orthoptics) and MMedSci (Vision and Strabismus) programmes including practical workshops in eye movement recording, analysis and differential diagnosis. We aim to improve public understanding of nystagmus through research and teaching and our long-term goal is to improve the care pathway from diagnosis to treatment options.
We have undertaken research quantifying visual fields in normally sighted adults and children, as well as patients with deafness, autism spectrum disorder (ASD), stroke and brain tumours. This work has had a significant impact nationally and internationally and has led to several research grants and publications. Please also see: 'visual perception and sensory adaptation'.
Masters level research into the clinical tests of visual acuity using computerised tests, the impact of prism therapy on vision and the visual and quality of life outcomes of children treated for amblyopia has led to international publications, presentations and further PhD levels of study in our unit. International collaborative research into childhood vision screening is ongoing, with Dr Helen Griffiths also leading the British and Irish Orthoptic Society Vision Screening Special Interest Group.
Current areas of vision and eye movement research also include the impact of acquired nystagmus and oscillopsia, using virtual reality technology in eye movement disorders, accurately measuring head position, measuring extraocular muscle excursions in normal adults and patients with Graves' Orbitopathy, and measuring visual outcomes in children using different tests and during amblyopia treatment.
---
---
Academic Staff:
Collaborators:
Dr John Fenner, Academic Unit of Medical Physics
Mr David Randall, Research Student, Academic Unit of Medical Physics
Dr Elizabeth Milne, Department of Psychology
Dr Jon Wheat, Reader in Biomechanics, Sheffield Hallam University