Alumni Volunteering: Starting the year strong!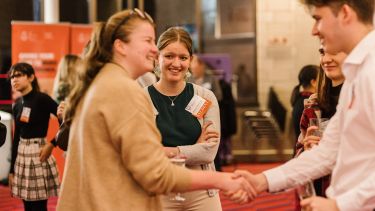 To kick-start the new academic year, projects including Northern City Connections made an in-person comeback. With 18 alumni and 32 students from the Faculty of Arts and Humanities taking part, this was a fantastic opportunity for alumni to share their experience and insights, boosting student confidence and enabling them to build their networks. 
During the day, students attended a variety of workshops with businesses across Sheffield. They heard about potential career paths and increased their commercial awareness. The day culminated with a reception at the Crucible Theatre, where students had the chance to network with successful Sheffield graduates.
Alumni Volunteer Feedback
100% of alumni enjoyed the activity
100% would recommend volunteering with the University to other alumni
---
The students I spoke to were clearly motivated to learn from alumni experience. They asked perceptive and intelligent questions and commented on points they found particularly useful. It was good for me to reflect on what I've done since graduating and articulate the key decisions and opportunities I've experienced."

Gareth Johnstone

BA American Studies, 1994
I am a regular attendee at Northern City Connections events. They are always lively and energising gatherings and I am continually hugely impressed by the students who attend. The NCC events always leave me feeling inspired and very confident about these potential future employees.To share my experiences of education and work and get to hear the developing ideas of students, soon to embark on such a journey, has been a privilege."

Paul Taylor

BA English Language, 1981
It's definitely eased my concerns. Speaking with alumni and finding out how their career path has developed has reminded me that 'career' is not a straight line - It's not about 'following' a career path, but about 'building' your own."

Rachael

4th year English Literature & Modern Languages and Cultures student
The alumni I spoke with were very open and gave me useful advice. They also gave me compliments about how I was talking to them, which gave me confidence in my networking skills."

Oscar

3rd Year History student
---
Coming up in 2023
Your support can continue to enrich our students' experience and we hope you're able to get involved in volunteering at the University.
London City Connections
On March 15th, 40 students from the Faculty of Social Sciences will be travelling to London to find out about careers in the capital from alumni like you. The day will culminate in a networking event with alumni from around London. If you're a Social Sciences graduate now based in London and you'd like to get involved, register your interest here.
Coach Cafe
This Spring 2023, we have more Coach Cafe events planned for students in the Faculties of Science, Engineering, Arts and Humanities and Social Sciences, as well as a university-wide event for recent graduates. These online networking events are a great opportunity for students to meet graduates doing the jobs they want, find out how they got there and ask them what it's really like. If you graduated in the last 15 years and would like to help current students with their career choices, then you can sign up to volunteer as one of our Alumni Coaches. Find more information here.