Volunteering opportunities
Whether you're a recent graduate or you've reached the pinnacle of your career, there are lots of opportunities for you to guide and inspire Sheffield students, both face-to-face and online.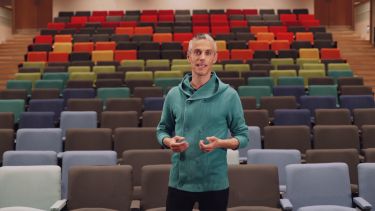 Our opportunities focus on supporting students from disadvantaged and under-represented backgrounds, ensuring your time and support goes to those who need it most.
Upcoming events
---
Check back later for future Volunteering Events, or take a look at one of our year-round opportunities.
Year-round activities
---
Virtual volunteering
Given the current situation, we are looking to move some of the fantastic activities alumni have previously supported on campus and face to face into the virtual space. If you have ideas of how you could support our students virtually, do get in touch - we love hearing from you!
Email the Alumni Volunteering team: alumnivolunteering@sheffield.ac.uk
---
Tell your story
Inspire students by sharing your story through an alumni case study. It could be about your time at university, your career journey or things you've learned along the way. Alumni profiles are a fantastic way for prospective and current students to visualise where their time at Sheffield may lead them.
---
Offer guidance and advice
Mentoring is a great way to share your experience and develop your own skills. You can offer an insight into your job, the skills required, the challenges you face and your advice for students wanting to pursue a similar role to yours. Communication is by email and/or Skype and is typically one exchange per week with your mentee for 8-10 weeks.
---
Provide a job opportunity
Whether it's part-time work, internships, placements, full-time roles or graduate-level schemes, we are always happy to share employment opportunities with our students and graduates. 
---
Take on a fundraising challenge
Fundraising is another fantastic way of giving back to your University. From scholarships to medical research, if there's a cause that's important to you, why not start your fundraising journey today?
---
Other opportunities
Can you help students who don't have contacts in their chosen careers? Whether it's giving a talk, leading a small group workshop or attending a larger networking reception with other alumni, there are lots of opportunities for you to share your knowledge and experience with students.
As well as giving them a valualable insight into your career, these events are a great way for you to build your own alumni networks. Once you have registered your interest, we will do our best to match you to the right opportunity to engage with our students.
---
Got something else to offer?
If there's another way in which you would like to support the University and our students through volunteering your time, we'd be delighted to here from you.