Meet Hettie the Hedgehog – fundraising for the Sheffield Scanner!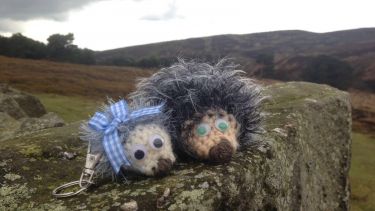 When the Medical School Big Walk team came up with the idea of a mascot following the success of similar mascots for Medical School events in the past, their resident knitter, Jacquie Harrison, duly produced Hettie the Hedgehog. Hettie will be accompanying the team on their Big Walk challenge as they attempt to walk up to 50 miles in 24 hours, starting on Friday 30 June.
Realising the fundraising possibilities of producing smaller Hetties, Jacqui recruited colleague Casey who crotchets, and between them they have knitted and crotcheted no fewer than 90 mini Hetties. No two the same, each with its own individual name and some sporting accessories such as glasses, bow ties or feather headpieces. The team each have their own mini Hettie which goes on every training walk with them.
Sales of the Hetties have raised over £350 so far, and Jacqui and Casey are busy producing further hedgehogs in time to feature in the team's forthcoming bake sale and raffle at the Medical School on 24 May.
The team are delighted with the success of the venture and would like to thank everyone who has bought one of the Hetties, and especially to Jacqui and Casey for their amazing creative skills and dedication!
We now hope other teams will be inspired and create their own Big Walk mascots!