James Montague Lewis obituary
Born 1936, died 2016. A graduate of the School of Medicine (MB ChB Medicine 1958).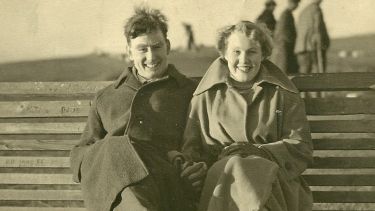 The University of Sheffield wishes to thank Monty for the support that he gave the University during his lifetime and for the legacy gift of £5,000 that has been allocated to support the Sheffield Scanner campaign. We would also like to thank Nicola Smith (Monty's daughter) for the information and photo below.
---
Dr James Montague Lewis (Monty) was born in 1930 and graduated with a Bachelor of Medicine and Bachelor of Surgery in 1958, then fully qualified as a medical practitioner in July 1959.
In the same year he married Sheila Muschamp who had also attended Sheffield and qualified as a physiotherapist. They were married for over 57 years and had 3 children and 8 grandchildren.
Sheila survived Monty by just two and a half months. Monty died of sepsis and myeloma. Sheila died of heart failure.
Monty and Sheila moved to Ammanford in South Wales where Monty became a partner in the local practice. He served the community in this capacity until his retirement in 1990. He was very well respected. Part of the role he enjoyed was encouraging and mentoring trainee GPs. Many were welcomed to the practice over the years from all around the world. He also served the St John's Ambulance Brigade in Wales and was appointed Divisional Surgeon in 1961. After retirement Monty continued to work part time carrying out medical assessment boards until his numerous hobbies and interests took over!
Monty relished his time at Sheffield. This was where his life broadened. He didn't just learn about medicine, he learnt about music, drama, sailing, cooking and most importantly - art, all the things that enrich life. He enjoyed telling tales of what he had got up to and stayed in touch with the good friends he had made there.
His lifelong interest in learning continued right up until his death in December 2016. He was busy finding out more about an exhibition he had seen in London. Monty continued to paint until he died. He had won various local prizes for his paintings and loved to climb the ladder to his art loft to get away from it all! He loved to go to concerts and had set up a room to listen to music at home.
Monty and Sheila travelled widely often going on walking holidays as they were keen ramblers. Most recently they went to Iceland which they found fascinating.
Family and friends were very important to Monty and he kept in touch with friends from his Sheffield days all his life, attending the occasional reunion which he would tell us about with great enjoyment.
This was a life well lived, caring for others, enjoying a loving family, being active in mind and body until the last few days of his life.