Developing sustainable solutions for international supply chains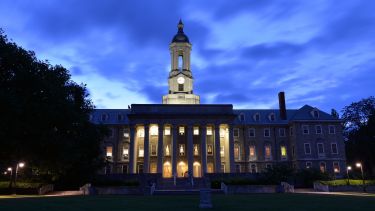 Researchers from the Energy Institute at the University of Sheffield have now launched the USA branch of the Advanced Resource Efficiency Centre (AREC-USA) at Pennsylvania State University. This research centre will promote collaboration between industry and universities. It will offer easy to access platforms that will help meet the challenges of sustainability across supply chains.
Professor Lenny Koh, Director of AREC and Head of Communication, Partnership and Internationalisation for the Energy Institute explains "We developed AREC in Sheffield to address some of the world's biggest challenges such as resource scarcity, efficiency and sustainability through our cutting-edge research and innovation bringing transformational change and positive global impact on society, industry and government.
We hope that AREC USA will lead to deep and significant USA policy and USA supply chain impact; and global policy and global supply chain impact on energy, environment and economy."
AREC-USA supports the development of sustainable supply chains by proposing new ways of reducing risk for partners in overcoming the challenges of resource availability. Small and Medium sized Enterprises (SMEs) will be able to collaborate with larger industrial partners and benefit from cutting edge academic research.
This provides the mechanism for achieving US Government and policy targets in supporting an environment in which the millions of US-based SMEs can flourish with their supply chains in the US and internationally.
Collaboration between the institutions will contribute to raising awareness about the excellent work conducted at the University of Sheffield internationally. AREC-USA will build on the existing partnership with Microsoft to develop cutting edge digital technologies to transform supply chains. An example of this is the Supply Chain Environmental Analysis Tool (SCEnAT) which was developed by Sheffield researchers in partnership with Microsoft.
This cloud-based software can pinpoint the places in the supply chain where most carbon is produced so companies know where change is required.
Clive Randall, Director of the Materials Research Institute at Penn State, said "We are extremely pleased to welcome the Pennsylvania State University's partner, the Advanced Resource Efficiency Center (AREC-USA) with the University of Sheffield.
This will tremendously aid the consideration of major resources, ranging from advanced materials manufacturing, energy, mining, and agritech supply chains.
Through this partnership, we aim to address and reengineer future research and business practice by integrating supply chain resource efficiency and sustainability into strategic decision making in government, industry and education."
AREC's central hub in Sheffield already provides industrial sustainable research in Europe and China. The USA programme brings together the Institute of Energy and Environment (IEE), Materials Research Institute (MRI), and Behrend's Plastics Engineering Laboratory, all of which have committed funds to accelerate this partnership.
AREC-USA offers a cross-disciplinary team with combined experience of research and innovation on sustainability, materials, manufacturing, energy and resource efficiency over five decades.
The launch of AREC-USA coincides with the Drawdown Conference on 16-18 September. The conference invites leading scientific experts and researchers from around the world to take part in a critical discussion about the most innovative and promising climate change solutions and upcoming research.
Professor Lenny Koh, from the University of Sheffield's Management School, AREC and Energy Institute, will attend the conference to present her research.
Flagship institutes
The University's four flagship institutes bring together our key strengths to tackle global issues, turning interdisciplinary and translational research into real-world solutions.