UoS AREC Research Centre collaboration with world leading Imerys and Penn State University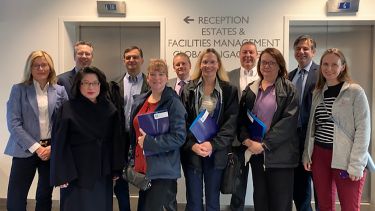 AREC, in conjunction with the wider UoS, hosted a very successful visit with Imerys, a world leader in mineral-based specialities for Industry with headquarters in France.
Imerys delivers high value-added functional solutions to many sectors, from processing industries to building products and consumer goods. This partnership builds from the work between Professor Lenny Koh and Professor Ian Reaney with Penn State University.
Imerys have signed the French policy/legislation meaning they need to reduce their C02 footprint, they will follow up with discussions regarding SCEnAT and how this tool can help. They are also interested in AREC's capabilities regarding circular economy and in the diversity of project work AREC has under various topics. This research collaboration will enable positive exchange both ways, AREC's global network sharing and Imerys existing projects with Penn State.
Sheffield University is coordinating the partnership with involvement of team members across various faculties.
There are exciting opportunities for AREC USA working with Penn State and Imerys and there are talks happening around establishing a joint research project on plastic, bio-based materials and polymer LCA. There are opportunities to connect agriculture and bio energy researchers (including sharing of database) on joint LCA project.
With Imerys as an industry partner, joint LCA collaborative research with a focus on green mining would have mutual interest and benefit. Other projects such as seed funding to pump prime collaborative LCA research are on the horizon. The toxicology footprint Nature paper has been shared with with NSF, relevant industry and policy makers and the UK REF impact case study measurement has also been shared.
Connecting social sciences (urban, transport, supply chain, humanitarian etc.) researchers in joint LCA projects has exciting opportunities for mutual benefits in resource efficiency and sustainability.
Flagship institutes
The University's four flagship institutes bring together our key strengths to tackle global issues, turning interdisciplinary and translational research into real-world solutions.