Festival of the Mind – Arts and Humanities Events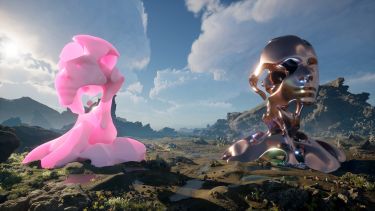 Festival of the Mind is the University of Sheffield's flagship and largest public engagement festival, in which the University's academics partner with a local creative to develop an engaging way to translate their research into an event showcase for the general public. This project may be a film, podcast, art installation, dance or an immersive gallery experience. Events are free to attend and open to all members of the public. In this way, the Festival both showcases our world-class research to the general public and invests in local creative talent, contributing to the cultural vibrancy of the city - a key strand of the University's Made Together programme.
Our academics have partnered with local creatives to deliver a series of free, exciting and innovative events across the city. Expect film, dance, immersive exhibitions, live performances and more!
Events
Fri 16 Sept | 2pm | Talk
A Mirror It Does Seem
In this talk Dr Thomas McAuley, School of East Asian Studies, will explore the enduring relationship between text and image in premodern Japanese poetry. Part of the A Mirror It Does Seem project, a series of paintings presenting new artistic interpretations of Japanese poems on the topic of water and reflected light.
See the exhibit at Futurecade.
Sat 17 Sept | 11am | Talk
The Reaction-ator: Exploring Real-time Responses to Speech
What do you think about what you hear? What do you feel? What stands out when you listen to voices? Dr Chris Montgomery, School of English, has been researching the hidden understanding of language. Take a spin on our one arm bandit designed by Joi Polloi and test your reactions to language.
Sat 17 Sept | 2pm | Talk
'Yes, it's plastic, but..'
Plastics and environmentalism are bound up in a confusing mixture of contradicting thoughts, facts, beliefs and desires. This interactive installation, created by artist Lynne Chapman in collaboration with Professor Joanna Gavins, Dr Stefanie Hills, and Dr Emma Franklin, School of English, explores this issue. People can interact with the piece and consider conflicting views on plastic packaging, reuse and what it means to be environmentally friendly.
Sun 18 Sept | 3pm | Performance
Ned's Voice
Sheffield, 1859. Ned, a Zulu man, arrives from southern Africa. A refugee, servant, fugitive, prisoner, and purportedly enslaved, Ned's life was made a spectacle, but his own perspectives were scarcely documented. Drawing on research by Dr Rosie Knight of the Department of History, actor, director, and writer John Rwothomack has created a powerful theatre performance reimagining Ned's tumultuous life.
Tues 20 Sept | 5pm | Talk
Battledress
Professor David Forrest, School of English, has collaborated with writer Rachel Genn and Humanstudio to create Battledress. This immersive gallery piece explores working class women's fashion and the rituals of getting ready and going out. It encourages participants to reflect on their own coming of age experiences through music, fashion and rebellion and asks 'what outfit makes you feel most powerful?'
Thurs 22 Sept | 5pm | Talk
Material Mourning
Dr Lizzy Craig-Atkins, Department of Archaeology, leads a panel discussion exploring funerary archaeology and the mourning rituals of the past and present. Part of the Material Mourning project, an installation of new paintings and ceramic artefacts inspired by Dr Craig-Atkins' research.
See the exhibit at Futurecade.
Fri 23 Sept | 2pm | Workshop
Voice Works
An interactive talk and workshop resulting from a collaboration between singer/vocal coach Dr Michael Bonshor, speech/language therapist Karen Esposito and people with Inducible Laryngeal Obstruction. Facilitated by Mir Jansen with research by Professor Renee Timmers, Department of Music. It shows that singing and breathing techniques can address vocal impairment, highlighting the effect of Arts in Health and informing future speech therapy practice.
Fri 23 Sept | 5pm | Film
A Learning Journey about Refugees in Calais
A screening of a short documentary film created by University of Sheffield students led by Dr Sophie Watt, Amanda Tavares, Dr Katy Hunter and James Pearson, School of Languages and Cultures, in partnership with photographer Elisa Larvego. The film explores migration, refugees in Calais and alternative forms of representation. The screening will be followed by a Q&A session looking at the students' learning journey, their collaboration with the photographer, and the current refugee situation in Calais.
Sat 24 Sept | 2pm | Performance
The Ratcatcher
Dr Adam Fergus, School of Languages & Cultures, has researched The Ratcatcher (1925) a major work by Russian poet Marina Tsvetaeva, inspired by the October Revolution and the Pied Piper of Hamlin. In a collaboration with Charlie Barnes of Dead Earnest Theatre, the poem has been interpreted to create a powerful piece of live theatre with music, spoken word (including Russian), storytelling and visuals.
Sat 24 Sept | 3:30pm | Performance
Love and Intoxication in a Renaissance Pleasure Palace
Professor Philip Withington and Dr Crosby Stevens, Department of History, have worked in collaboration with English Heritage and creative partners to uncover the secrets of Bolsover Castle and explore the themes of Ben Jonson's The New Inn, a play written for private performance at the Derbyshire 'pleasure palace'. This performance and Q&A session will bring together experts to help the play to explain the building and the building to explain the play, unlocking ideas fundamental to the English Renaissance.
Futurecade 
Taking inspiration from the 20th century world fairs and expos that exhibited new worlds and new futures, Futurecade is a space in which immersive technology, art and research collide. This year's exhibition hosts projects that showcase the University of Sheffield's research and collaborations with the region's creative community, exploring sustainability, the environment, health, wellbeing, culture and history.
Ownership and the Price of Empire
An exploration of the debates around the repatriation of 'stolen' museum objects implicated by Britain's imperial past. This immersive, interactive virtual display invites participation in the process of decolonisation and presents ideas about how to transform museums for the twenty-first century. It is a collaboration between Professor Siobhan Lambert-Hurley and student Lauren Hare from the Department of History, Russell Stearman and Zoe Roberts at Joi Polloi, James Moss at The Portico and Sheffield Museums Trust.
A Mirror of the Invisible: Shakespeare and Renaissance Science in the Modern World
Artworks themed on the concept of the mirror draw on research by Dr Tom Rutter, School of English, on Shakespeare and early modern science. The artworks by Gina Allen juxtapose Renaissance ideas about the universe, matter and the body with modern anxieties such as climate change, pollution and disease.
For the full Festival of the Mind programme and for more information, please visit Coming Soon - Festival of the Mind 2022 (sheffield.ac.uk)
Flagship institutes
The University's four flagship institutes bring together our key strengths to tackle global issues, turning interdisciplinary and translational research into real-world solutions.