Mozart the performer: famous composer had a liberal approach to performing his string quartets and we should too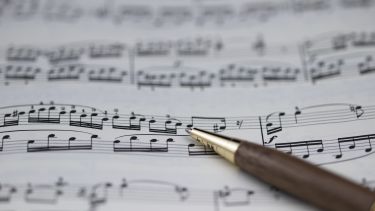 Mozart's autograph manuscripts reveal he prioritised practical considerations over compositional authority, according to research from the University of Sheffield

Research by leading scholar focuses on the quartets dedicated to Mozart's friend, the celebrated composer Haydn, and reveals that the experience of performing the works with Haydn led Mozart to make significant changes 

University of Sheffield Concerts announces an inaugural collaborative event  featuring musicians from the world-class Manchester Camerata putting research into practice and performing 'before and after' versions of two of Mozart's 'Haydn' quartets for the first time in an unusual digital concert on 13 May 2021
Music history tends to regard the musical works of Wolfgang Amadeus Mozart as a testament to his genius, but his manuscripts reveal that Mozart himself was more interested in creating exciting performances than building monuments to his legacy.
The research by Professor Simon Keefe from the University's Department of Music highlights how putting famous composers on a pedestal can mean that we miss the essence of what makes their music effective in concert.
He said: "We may be used to thinking of Mozart's scores as beautifully-bound volumes of perfect works on a library shelf, but for him they were opportunities to create exciting performances, both for the listener and for Mozart himself as a performer." 
Keefe's research into the six quartets dedicated by Mozart to his friend and mentor Haydn sheds new light on the relationship between composition and performance. 
Comparing Mozart's autograph manuscripts with the first published editions, Keefe has discovered that the composer made surprisingly drastic changes to many passages, revealing a significant reconception of both the compositional fabric and the sonic world of the quartets. 
And now the research will be brought to life by musicians from the Manchester Camerata Orchestra, who will perform and bring to life this adventurous approach to Mozart's music live in the atmospheric settings of the University of Sheffield's Drama Studio and live streamed in a unique digital concert available internationally on Thursday 13 May 2021. Tickets are available at: www.sheffield.ac.uk/concerts and ticket holders will be able to access the stream for 24 hours. 
Manchester Camerata is an ensemble and charity working and performing in Manchester and worldwide since 1972. Be it opening Glastonbury festival in front of 40,000 people or working intimately in care homes with people living with dementia, Manchester Camerata is at the forefront of exploring the transformative and connecting nature of music. 
The performance will not only include complete renditions of two of the most famous quartets but will also offer the general public the chance to hear Mozart's original conception of various passages for the first time. 
Professor Keefe will introduce the performances and will discuss how Mozart continued to craft the quartets, revising, re-working and re-evaluating his famous works after he had put them down on paper, allowing the audience at home to compare passages that were completely recomposed or in which the dynamics were drastically rewritten.
The University of Sheffield's Department of Music is one of the UK's leading centres for music research in the UK, according to the latest Research Excellence Framework.
Researchers in the department are at the cutting edge of studies in areas such as composition, ethnomusicology, musicology, music technology, performance and the psychology of music.
Sheffield music researchers have recently been involved in projects such as: developing new insights into how music can be used to help people suffering from insomnia; producing a new universal music notation system to make it easier to share musical ideas across cultural boundaries; and working with contemporary arts organisations to help them trial new strategies for recruiting and retaining new audiences.
The University's Department of Music has a focus on research-led teaching and offers one of the UK's most diverse and flexible music degrees in which students can study music on its own or with other subjects to tailor their degree.
Flagship institutes
The University's four flagship institutes bring together our key strengths to tackle global issues, turning interdisciplinary and translational research into real-world solutions.