Shape your own story with interactive installation at Sheffield cathedral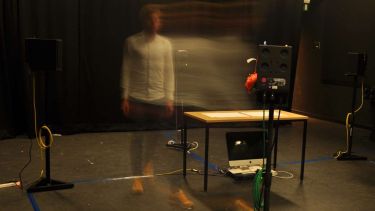 A collaboration between award-winning writer Clare Fisher and accomplished musician Will Schrimshaw, the multi-channel installation 'Cracked and Blessed' is heading to the Cathedral 13-18 November as part of the UK-wide Being Human Festival of the Humanities.
The installation will feature spoken word excerpts from Clare's short stories accompanied by an electronic soundtrack courtesy of Will. The computer system running the piece will attempt to play it in order. However, when the audience subtly interacts, it can disrupt the system, creating new combinations of text and sound and potentially revealing new meanings. 
Clare, a novelist, short story writer, and Lecturer in Creative Writing at the University of Sheffield, explained, "There's an infinite number of forms any creative work could take, all stemming from a series of decisions. 
"When presenting a short story, it can often appear as though there is only one possible narrative path. That's the concept we wanted to explore with this installation.
"The idea is that the audience is an active part of the installation, and they get to almost create something themselves. The experience will constantly change and fluctuate, and this will be influenced by how they move within the space."
Dr Will Schrimshaw, a musician and Lecturer in Popular Music Technology and Composition at the University of Sheffield, said: "We wanted to create something subtly responsive to an audience and the Cathedral environment, something that would make an audience question how the system was responding to them and what impact they might be having on the shifting combinations of sound and text. 
"The audience will produce their own interpretation of both the system's interactivity and the materials it generates around them."
The installation is free and open to everyone, offering a unique and immersive experience for those interested in the arts or anyone seeking an escape from the daily grind.
Being Human Festival 2023 is a nationwide celebration of the humanities, with 52 twins and cities hosting events across the UK.
---
Events at the University
Browse upcoming public lectures, exhibitions, family events, concerts, shows and festivals across the University.