Trapped: the truth behind narco-trafficking in Mexico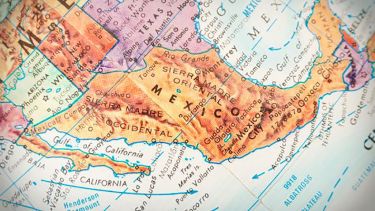 Seeking asylum
"The tribunal chambers are a busy place, full of people from all over the world waiting to be processed by the courts and hoping to gain asylum. Many of whom are dealing with deeply traumatic experiences," says Dr Peter Watt, an academic at the University of Sheffield's School of Languages and Cultures. Peter was in the tribunal chambers because he was acting as an expert witness. He was supporting the case of a Mexican national, 'Maria', fleeing persecution by her partner, who'd become involved in a powerful drug cartel.
An expert witness can be anyone with knowledge or experience in a particular field that goes beyond that of the average person. Having spent nearly 20 years studying Mexico's contemporary history and visiting the country to understand the culture, Peter certainly fits this description.
Over the years, he's built up a vast and detailed knowledge of the current state of Mexico and the impacts of narco-trafficking here. This insight, coupled with a desire to help those victimised by drug cartels, makes him one of the few people able to be an expert witness in this particular area. "It's one area in which the work I've already done could contribute to having a positive impact on someone's life, it seemed to me that that was the right thing to do," Peter says.
The evolution of narco-trafficking in Mexico
"The first thing you notice is that Mexico is an unequal country," says Peter. Mexico, whilst culturally rich in many ways, from its stunning geography and landscapes to its diverse tapestry of cultures and history, is also rife with poverty. Ultimately, this is a consequence of the political, economic and cultural upheaval which has taken place in recent decades.
In the 1970s, driven by a rising demand in Europe and increased drug use as part of US counter-culture, Mexico became the principal supplier of two out of three of the best selling narcotics in the world – opium and marijuana. Over this same period, economic changes pushed more people into poverty causing many Mexicans to abandon their land in search of more prosperous jobs in the city and over the US border.
This desperation left the farmers vulnerable at a time of political shift as a new party moved into power. Until 2000, the government had controlled the drug trade, however, partly due to new economic policies and an increasingly desperate workforce, drug-trafficking organisations were able to exploit instability and poverty and gain control at government level.
In such an unequal country, many become trapped by narco-trafficking. This forces people to flee to other countries, like the UK, where they live undocumented or attempt to claim asylum –much like Maria. But it's also how people like Peter come to spend their afternoon in the Tribunal Chambers helping them to gain refuge.
A common occurrence
Maria and her partner had been childhood sweethearts, but when he was recruited by a cartel everything changed. Her partner became drawn into the perceived perks of life in the cartel, including access to narcotics, weapons and power. Maria was repeatedly assaulted, both physically and emotionally, by her partner. The tipping point was the disappearance of her friend, whose partner was also in the cartel; Maria realised this could be her if something didn't change. She had no choice but to escape.
Maria had tried to escape twice before, but collusion between the authorities and the cartels meant that wherever in the country she went to her partner and the cartel would be able to find her. She tried to escape twice, but – because she was still in Mexico – she was sent back to him. In order to survive, the next time had to be different.
Maria fled to the UK under the guise of going on holiday, but her scheduled return flight had an empty seat. She remained in the UK undocumented until her new partner encouraged her to claim asylum, assuring her that once she did she'd be able to live here safely. But it didn't quite work out that way. As soon as she declared herself as an asylum seeker she was imprisoned in a detention centre.
"This is a typical case but it's not the worst," says Peter. Occurrences like this are shocking to many of us but perhaps more shocking is that it's normal for Mexican nationals. Mexico is experiencing a heightened wave of assault against women, with the worst global records for domestic violence. Two thirds of female homicides take place in the home and, more often than not, the perpetrator is the current or ex-partner. Maria's fears about what she might be faced with should she return to Mexico were well-founded.
Knowledge saving lives
Peter took on the challenge of being an expert witness in Maria's case for asylum after being approached by the Rights in Exile Programme, an organisation to promote the legal protection of refugees globally. They approached him because of his academic research on the history of narco trafficking in Mexico and because of his reputation in the Mexican human rights community.
There are few academics willing to volunteer their time to act as an expert witness. As a result, Peter is often called upon to provide expert witness statements on behalf of people from Mexico and Central America seeking asylum in the US and the UK. Acting as an expert witness means looking at all the information available and assessing the validity of the claim being made and advising on whether the claims made by those seeking asylum are credible.
But, as Peter tells us, "Every single person in [the Immigration Tribunal Chambers] has a story and deserves asylum, because why would you make that up." But the UK asylum system is challenging. To claim asylum refugees have to fit into one of the five categories of persecution: race; religion; nationality; political opinion or gender, gender identity and sexual orientation. With such strict guidelines, it's no wonder that between September 2017-2018, only 38% of asylum appeals were accepted.
In Maria's case, she wasn't being targeted by her partner or the cartel for any of these categories specifically, but being a woman in Mexico did increase the risk to her life. "Women are particularly vulnerable, they're often detained illegally and subject to torture and sexual violence," explains Peter.
Initially, Peter wrote a report on behalf of Maria's case that was based on his extensive knowledge and experiences of Mexico. The report detailed the failings of the police and justice system to prosecute violent criminals and organised crime gangs, because authorities themselves are corrupt. Peter's report also described the extent to which women are particularly vulnerable in this environment.
"They take apart everything you've said as a witness and try and find holes in it. It's stressful, because what you've written could have an effect on this person's life," says Peter. Maria's first appeal was rejected, with the judge declaring a lack of evidence that Maria would be persecuted should she return to Mexico. He claimed that she could move elsewhere in the country and be safe. But Maria had already tried this – twice – and both times she had been found by the cartel and taken back to her partner.
It's no surprise that Maria's case was originally thrown out as women face major difficulties when seeking asylum, which only makes Peter's job harder. According to the Refugee Council there is a problem with women's claims for asylum: "the asylum system can feel very hostile and it's difficult for women to give full details of the violence they've experienced." This puts a lot of strain on testimonies from expert witnesses and many claims are rejected. Maria and Peter were able to challenge the judge's decision and get an appeal, but again the claim was rejected.
An uninformed statement from the Home Office formed the basis of this decision. It was an explanation that cherry-picked statements from a US report claiming human rights in Mexico had improved. But they chose not to disclose the lines that clearly expressed that "the human rights for women in Mexico had deteriorated significantly", says Peter.
Peter presented this information, alongside his expert testimony as the only witness and his dedication to Maria's human rights were rewarded. The judge referred to Peter's testimony repeatedly while granting Maria asylum in the UK. Had Peter not provided testimony in the first instance and then continued to be persistent in this case, Maria would have been sent back to a place where her existence was at risk.
Peter's commitment to the human rights of others was fundamental to Maria's case, and the cases of other Mexican nationals he's supported. But the cornerstone of it all was his vast knowledge. Without that, Maria would likely have been sent back to a country where the rights for women were rapidly decreasing and the situation is becoming ever more precarious.
In Peter's eyes, "as researchers we have the opportunity to put our knowledge and experience to good use and try and improve the lives of others. If we can make even a small difference in making the world less unjust then, surely, it's the responsibility of researchers to do so."
A global reputation
Sheffield is a research university with a global reputation for excellence. We're a member of the Russell Group: one of the 24 leading UK universities for research and teaching.