Research centres and institutes
The faculty is home to leading centres that foster innovative interdisciplinary research.
Institute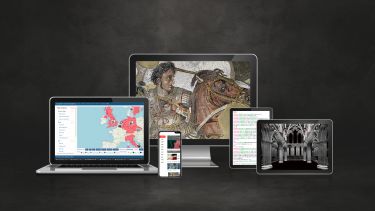 Digital Humanities Institute (DHI)
One of the UK's leading Digital Humanities centres, the DHI supports the innovative use of technology and computation in arts and humanities research as both a method of inquiry and dissemination.
Visit the DHI website
Faculty research centres
Centre for Dutch and Flemish Studies
An interdisciplinary research centre unique to the UK. The centre brings together all expertise in Dutch Studies at the University of Sheffield. It aims to be a national and international focus for Dutch Studies and to stimulate interest in the culture of the Low Countries.
Sheffield Centre for Early Modern Studies
One of the largest and most respected centres for early modern studies in the world, with expertise in history, literature, linguistics and philosophy. Topics include the late medieval period, musicology, social history, American colonies, manuscripts, material culture and social practice.
Hang Seng Centre for Cognitive Studies
The Hang Seng Centre for Cognitive Studies supports collaborative research on fundamental issues concerning the nature of cognition. The centre is highly interdisciplinary, bringing together researchers across a broad range of different fields from many universities in the UK, Europe, and the United States.
Centre for the History of the Gothic
The centre brings together colleagues from across the Faculty of Arts and Humanities who have an interest in the historical and national contexts in which the Gothic of the eighteenth century emerges, and the influence it had on the nineteenth century Gothic.
Centre for Linguistic Research
A research forum for linguists in the School of English and the School of Language and Cultures with the three-fold mission to bring together linguistics researchers, support bids for projects, and develop joint initiatives for postgraduate research and training. 
Centre for Luxembourg Studies
The Centre for Luxembourg studies is unique globally. The multilingualism and multiculturalism of Luxembourg, coupled with the ongoing promotion of the national language, make it a key research site for cutting-edge research in the humanities and social sciences.
Centre for Contemporary and Modern History (CoMo)
CoMo brings together international research expertise that ranges across the globe. We provide a hub for people who conduct historical research on an individual basis or as part of a wider research portfolio. We share a belief that the modern and contemporary world is best understood as an interconnected whole and we bring a historical perspective to current events.
The Sheffield Animal Studies Research Centre
The University of Sheffield is recognised as a leader in the field of Animal Studies, a burgeoning sub-field of interdisciplinary academic inquiry, largely across the Arts, Humanities and Social Sciences but also some branches of Life Sciences.
Medieval and Ancient Research Centre
Bringing together a concentration of research and teaching expertise that is unique within the UK. Ranging from archaic Greece to Renaissance Europe, MARCUS represents an array of disciplines, from history to biblical studies, from philosophy to languages, and from archaeology to music.
Music, Mind, Machine Research Centre (MMM)
Music, Mind, Machine Research Centre (MMM) in Sheffield combines musicology, psychology and computer science to investigate music cognition and behaviour, aiming to form a bridge between these disciplines in terms of methodology and collaboration.
Centre for Nineteenth Century Studies
Attracting scholars across the University and promoting interdisciplinary and collaborative research. Our interests extend over the whole breadth of the 'long Nineteenth Century' covering British, American and European history, literature and culture.
Sheffield Centre for Research in Film
The Sheffield Centre for Research in Film (SCRIF) acts as a hub for a diverse, interdisciplinary community of scholars and researchers, from the University of Sheffield and beyond, with shared interests in the significance, analysis, role and impact of the moving image.
Sheffield Performer and Audience Research Centre (SPARC)
Collaborating with organisations and venues to investigate audience experiences of live music. Recent research includes audience experiences of contemporary arts and music, and an AHRC network is now exploring the classical music ecologies of cities in the UK, Netherlands and Austria.
Centre for Poetry and Poetics
Bringing together those fascinated by poetry, including academics, poets, publishers, students, and readers. It comprises faculty from the University of Sheffield, alongside Sheffield based poets, presses and other affiliates.
The Prokhorov Centre
A hub of expertise and research on the intellectual and cultural history of Central and Eastern Europe at the University. Cultural history encompasses not only literature and the arts, but also various forms of a community's social organisation and ideological orientation, and their interrelations.
Centre for Interdisciplinary Biblical Studies (SCIBS)
The Sheffield Centre for Interdisciplinary Biblical Studies (SCIBS) is one of the leading global institutes for innovative, multidisciplinary research on the Bible. The centre's research is internationally recognised and explores a variety of interests in ancient and contemporary contexts.
Centre for Engaged Philosophy
The Centre for Engaged Philosophy brings together scholars and practitioners dedicated to philosophical practices that aim to inform, learn from, and build, ongoing collaborative relationships of import beyond the academy.
Contemporary Folklore Research Centre
An interdisciplinary centre to bring together academics and community members across the UK to explore the many facets of folklore in contemporary society. Conscientiously exploring Participatory Research methods, group projects and individual academics. Actively developing new projects and mentoring ECRs.
University and White Rose Research Centres
Centre for the History of Philosophy
CHiPhi (kī fī) was established with a grant from the White Rose University Consortium to bring together expertise in history of philosophy at the Universities of Leeds, Sheffield and York as well as Durham to consolidate and promote research and teaching in the field.
Medical Humanities Sheffield
The interface between medicine and science on the one hand, and the arts and social sciences on the other hand, is one of the most exciting and important in modern academic life, offering unrivalled potential for multi-disciplinary work, policymaking, and public life.