About the Knowledge Exchange
The Knowledge Exchange aims to link together Arts and Humanities research and creative activities with local and regional partners.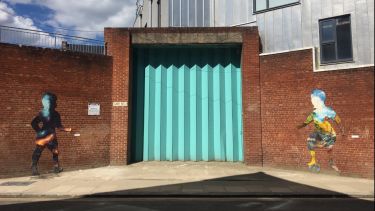 Off
Our aim
We collaborate with partners beyond academia to co-identify outstanding problems and co-create unique solutions driven by the arts and humanities.
Every problem in contemporary life has a human dimension. Problems of global or local economies, individual or collective well-being, changing communities, and conflicting worldviews all relate to human interaction, behaviour, understanding, desire, and imagination.
Arts and Humanities scholars are uniquely trained to explore, negotiate, map, and manage these extremely complex and often contradictory dimensions, and to engage with the public in clear and meaningful ways about complicated ideas.
We have extensive experience working with businesses and the private sector, and with local communities, to explore their histories, heritage, language, complexities, contradictions, diversity, and identity.
We work with private and public groups in many ways: sharing and writing their stories; creating films and exhibitions about their heritage; exploring their use of language and its impact on the world around them; and discussing literature and history to shine a light on contemporary life.
---
Support for our staff 
The Arts and Humanities Knowledge Exchange (AHKE) team work across the departments and schools in the Faculty of Arts and Humanities on a range of projects connecting our research with external partners for mutual benefit.
We provide platforms for staff and students to carry out knowledge exchange, as well as individual support for grant applications, research-specific partnerships and REF impact case studies. Our work is supported by the Higher Education Innovation Fund.
We're here to help you make the most of opportunities to work with external partners and plan for research impact, please get in touch if you want to know more at ahke@sheffield.ac.uk
Flagship institutes
The University's four flagship institutes bring together our key strengths to tackle global issues, turning interdisciplinary and translational research into real-world solutions.