A History from Below of Appeasement and the Munich Crisis: Performance of 'The Nervous State'
An afternoon performance of 'The Nervous State' for Key Stage 4 and 5 historians and their teachers, followed by immersive workshop sessions on Wednesday 19 April, 12.30 - 3.30pm.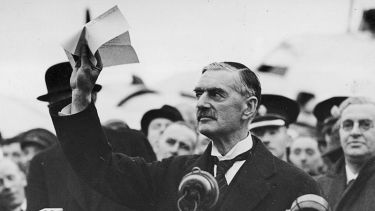 The history of appeasement, the successes and failures of peace initiatives in international relations, and the social history of World War II are popular topics at GCSE and A-level. They are, however, taught mainly from the perspective of history from above, with less regard for the psychological, personal, and popular experiences of living in times of acute international crisis, and the ways in which we all inevitably internalise the failures of peace.
Professor Julie Gottlieb is leading a collaborative project bringing together history teachers, academic historians and artists to explore these perspectives and introduce new sources, resources and methods into the History curriculum.
We warmly invite Key Stage 4 and 5 historians and their teachers to an afternoon of immersive learning – featuring a live performance of The Nervous State – a new play written by renowned playwright Nicola Baldwin, in collaboration with Professor Gottlieb – which dramatizes F.L. Lucas's non-fiction account of the year leading up to the outbreak of World War II, Journal Under the Terror, 1938 (1939). Taking the form of diary entries recording Lucas's daily experience under the shadow of the approaching conflict, the text is a written testimony of the affective impacts of public crisis on the private lives of individuals during the Munich Crisis and the wider Appeasement period. A literary account of a personal history, it chronicles the impacts of these stresses on everyday life; documenting their effects on Lucas's marriage, and on the mental health of his friends and collaborators, including the nervous breakdown of his wife, the artist and sculptor Prudence Wilkinson.
The performance will lead into Q&A with Nicola Baldwin and the actors, then on to immersive workshop sessions. This interactive experience will get students to engage with new perspectives and approaches, looking at history from the bottom up - reflecting on how we think about times of crisis.
Schedule
12.30 - 12.40pm: Welcome and overview
12.40 - 1.20pm: Live performance of The Nervous State
1.20 - 1.40pm: Discussion of the performance and Q&A with the director and actors
1.40 - 1.55pm: Refreshment break
1.55 - 3.15pm: Workshop Activities - students will have the option to join either a scene study, source analysis activity or an exploration of different source genres - supported by Professor Gottlieb and her students, alongside actors from the performance.
3.15 - 3.30pm: Conclusion and feedback
Venue
Mappin Hall, Sir Frederick Mappin Building, Mappin Street, Sheffield S1 3JD
Booking
This event is free of charge, to make a group booking please go to our online form. We advise early booking, as places are limited and will be allocated on a first-come first-served basis.
The deadline for booking is Monday 3 April. 
We are fortunate to be able to draw on some external funding which enables us to offer a small travel bursary towards the travel costs of state schools wishing to attend. If you'd like to be considered for a travel bursary, please tick the box on the online booking form and we'll send you further details.
Contact
If you have any questions regarding the event, please contact Hallam Roffey, Project Officer: hroffey1@sheffield.ac.uk
Events at the University
Browse upcoming public lectures, exhibitions, family events, concerts, shows and festivals across the University.