Modern Languages schools' outreach
The School of Languages and Cultures offers specific programmes for engagement with schools, offering tasters in a variety of modern languages.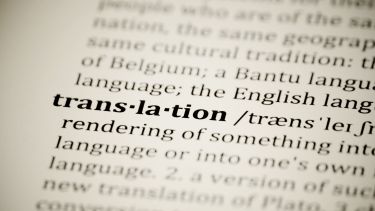 Off
The School of Languages and Cultures (SLC) teaches 10 languages at degree level, including Catalan, Portuguese, Dutch, Luxembourgish, Czech and Italian, as well as French, German, Spanish and Russian.
Through its work with educational establishments, the School of Languages and Cultures is active in encouraging school students to engage with exciting new languages and consider studying a language in higher education.
Specific programmes for engagement with schools are listed below - generally, these events are not single-language specific, to offer tasters across a range of modern languages.
---
Taster Sessions
Led by our students and academic staff, these interesting and interactive sessions give an insight into the difference of studying Languages at University compared to school. Year 12 and Year 13 students will have the opportunity to experience a lecture or seminar and to participate in Q&A sessions about Languages research, teaching and student life at the University of Sheffield. 
---
Passport to Languages 
Our KS3 Passport to Languages workshops take place in your school on a date and time that are most suitable for you, depending on the availability of our student ambassadors. These workshops usually last for approximately two hours with activities that cover a mix of familiar and unfamiliar languages.
Workshops are delivered by our student ambassadors. We normally work with a maximum of 100 pupils (five groups of 20), although we can modify the format depending on your requirements (such as the number of pupils you would like to include and the time available). These workshops can run in a school hall or in smaller classrooms, whichever is most convenient for you.
While the ambassadors are on site, we can also arrange for them to meet with students in other year groups and speak about the advantages of studying languages at University. This can be done either in a formal presentation, or on an informal networking basis. 
* Please note that Passport to Languages is available for schools in South Yorkshire and North-East Derbyshire due to travel times involved. 
* Bookings for this academic year are now closed. We will update our future offer for 2023-2024 as soon as it's finalised.
For more information, please get in touch - 
---
Kafka in Quarantine Podcast
Dr Seán Williams, senior lecturer in German and European Cultural history, recently made a podcast on 'Kafka in Quarantine' - which may be of interest to German A-level students and their teachers (since the text is on the AQA A-level syllabus).
Kafka in Quarantine.

During life in lockdown, many of us are turning not only to literature, but also to cultural performances being streamed online. Prompted by the Royal Ballet's adaptation of The Metamorphosis (Die Vervandlung), which was staged in 2011 and became available to audiences worldwide during the coronavirus pandemic, we wanted to think about reading and watching Kafka in these confined and uncertain times. Dr Seán Williams talks to choreographer Arthur Pita, academics Drs Lucia Ruprecht and Emily Troscianko, and hears from students at the University of Sheffield: Ben Whiteside, Jonny Shipton, and Rowan Evenden. The podcast covers troubling themes, questions about catharsis and the arts, and finds creativity in crisis. By the (upbeat) end, we hope you might be dancing to Kafka around your kitchen. Made for the Ingeborg Bachmann Centre for Austrian Literature and Culture at the Institute of Modern Languages Research, in conjunction with the Austrian Cultural Forum and the University of Sheffield.
Produced by Seán Williams, with sound engineering by Iain Hunter.
---
Past Events
Forge Valley School Spanish Revision Day, 14 January 2020
In January 2020, the School of Languages and Cultures delivered a GCSE Spanish revision day with approx 100 Year 10 students from Forge Valley School, Sheffield. Throughout the day the students were split into smaller groups and, working with our languages ambassadors, practised pronunciation, intonation, reading, role play and general conversation, using school material and activities designed by our ambassadors. Our ambassadors also delivered a presentation and Q&A about "Why Study Languages?''. The students were very engaged and asked lots of questions. We have been delivering the revision day for Forge Valley School for many years and the feedback is always very positive. 
---
Contact us
If you would like to contact the Faculty Schools' Outreach Team regarding any of our projects, or to enquire about setting up a bespoke session for your school or college, please get in touch here - 
A global reputation
Sheffield is a research university with a global reputation for excellence. We're a member of the Russell Group: one of the 24 leading UK universities for research and teaching.