Preparing a Covid-secure campus for our students, staff and visitors.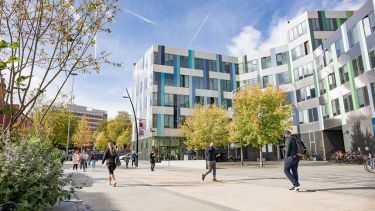 The health and wellbeing of our University community is our number one priority.
We are working hard to prepare a Covid-secure campus in readiness for the new academic year – on 28 September 2020 for undergraduate studies, and on 26 October 2020 for most campus-based postgraduate courses.
Whether you're joining us as a new student or returning to continue your studies, we're dedicated to providing you with an excellent student experience. We will:
prioritise your safety both on and off campus
provide an engaging, inspiring and supportive learning experience
create opportunities for you to socialise, meet people and try out new experiences
welcome you into a supportive, collegial community where nothing is more important than your wellbeing.
At the start of the pandemic we established a Covid-19 Management Group, led by members of the University Executive Board, and our staff have been working hard throughout to prepare contingency plans and manage any precautions we all may have to take as the situation evolves.
We're closely following the latest advice and guidance issued by the UK government, Public Health England and the Foreign and Commonwealth Office. We will continue to take all appropriate and necessary steps, as required by the official advice, to keep our community safe.
We want to reassure you that we are doing all we can to plan for all possible circumstances, and as the situation changes we will keep you updated with any further action you may need to take.
We know that some students may be unable to travel to Sheffield, due to international travel restrictions, visa delays, medical reasons or a disability. We are committed to ensuring that you are not excluded or disadvantaged for this reason, and you will not receive a penalty if you cannot attend. You will be able to access our induction activities and all our digital learning online, until you are able to join us later in Semester 1 or at the start of Semester 2. Please contact your academic department to make them aware of your circumstances, so that any necessary adjustments can be considered.
---
We've adapted our teaching to make sure you continue to receive a world-class education from our dedicated teachers.
How you'll be taught

You'll be taught through a blend of face-to-face teaching and digital delivery in small groups in Sheffield, where social distancing can be maintained.

All programmes will include an element of face-to-face teaching, although the amount and frequency will vary depending on the discipline. Your department will provide further detail about what this will be like for you.

In the autumn term, large lectures will be delivered solely online.

Laboratories, studios, clinical spaces and practical areas will be open and social distancing measures will be in place.

Timetables

Your timetable will be provided during induction week and will include details of both on-campus and online classes so that you can plan your time effectively. The timetable is being prepared to ensure that you can move between classes in the safest possible way and to support social distancing.

Exams

All formal invigilated exams in the autumn term will be replaced by online forms of assessment. You will not be required to be on campus for final assessments.

Study abroad

If you are registered on a programme with study abroad in the 2020–21 academic year as a mandatory and integral part of your course, then this may continue, subject to risk assessment (including Foreign Office travel advice) and restrictions in place at your host university. You should liaise with your department about the necessary travel arrangements.

Optional study abroad and international placements are cancelled for semester one. Your department will advise you of alternative arrangements as soon as possible.

Libraries

While our library buildings are closed, our digital library is open. Our online service has almost a million ebooks and over 60,000 journal titles along with a virtual library team and specialist librarians ready to support you to ensure your studies are unaffected as much as possible.

We are currently working through our three stage return to campus plan. We're committed to reopening our physical library spaces and services as soon as it is safe to do so.

If you have any questions, please visit the Library FAQs page or contact the library online via live chat or email library@sheffield.ac.uk
---
Our top priority is always the health and safety of students, staff and our University community. We are closely following the latest advice to make our University a safe place to live and study. 
Accommodation

Once you move into University accommodation, you will be classed as one household with your new housemates. This means you will not need to social distance from one another or wear a face covering. You should social distance from others outside your household.

For international students who need to self-isolate (quarantine): we're offering three weeks' free accommodation.

Increased cleaning regimes will be in place for social spaces within University accommodation.

Our Residence Life team will continue to offer a range of activities and events both online and face-to-face across the academic year.

For more information, see our accommodation web pages.

Health and safety on campus

The University has undertaken comprehensive health and safety risk assessments across campus.

The following safety measures will be in place for our staff, students and University community:

Sanitisers will be in place at key points across campus.
Clear signage with information about social distancing will be in place across campus.
Fewer people will be moving around campus at the same time, minimising cross over in corridors and hallways. One-way systems will also be in place.
All teaching will follow guidelines around social distancing.
Face coverings will be required in teaching spaces and we advise you to wear face coverings around campus. We will provide you with two reusable face coverings.
Corridor doors will be held open magnetically and automatically close in the event of a fire alarm activation.
Touch points and heavily used areas will be prioritised for cleaning throughout the day.
Toilets along with other frequently used facilities will be subject to multiple cleans each day.

We will continue to closely monitor this and we will adapt our plans to protect the safety and wellbeing of both our students and staff at all times.

Staying safe in the city

Sheffield is a student-friendly city and very easy to get around without a car. If you need to use public transport, social distancing will be observed and face coverings are required while travelling. Student bus journeys only cost £1 and the city's modern tram network makes getting around the city safe and convenient.
---
Nothing is more important to us than your health and wellbeing. We're continuing to provide an extensive range of support services so you can get on with doing what you do best.
All our student support services will remain available online until it is safe to open in person. You can find out more on our support services page, including information about our on-campus University Health Service.
---
We're focused on continuing to provide our students with an outstanding student experience.
Orientation week and Intro week

 

Retail
Support – get in touch
Our extensive range of student support services are all available online. Whatever your need, our experienced staff can answer your questions and offer support.