Tackling climate change using creative communication (digital character)
This project aims to develop a digital character with a compelling backstory and narrative that stimulates active listening, empathy, rapport, influence, and eventually behavioural changes toward climate change at the nationally and international scale.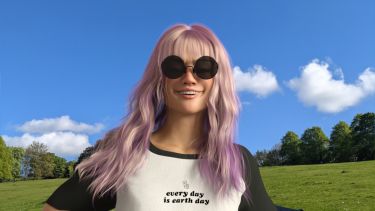 Climate change is a global challenge that all stakeholders including private and public sectors should contribute to in developing and implementing creative solutions. Based on Professor Olya's research, public awareness and values around climate change are necessary but insufficient alone to stimulate actual behaviour change. Interestingly, people engage with climate change actions when they have concerns about climate change. However, raising concerns too strongly can negatively affect public behaviours (specifically vulnerable groups). Therefore, solutions should be applied to effectively stimulate the behavioural changes with care. One of the solutions is communication through influencers and recently the UK government successfully recruited influencers to promote their Test and Trace program.
This project aims at creating a creative solution to nudge the public gently and with care through an engaging, fun, and entertaining approach. This project funded by University of Sheffield employs an innovative collaboration project based on research of an academic from Sheffield University Management School co-creating in partnership with the creative design power of Human Studio and the theatrical scriptwriting and directorial expertise of Dead Earnest Theatre to develop a digital character with a compelling backstory and narrative that stimulates active listening, empathy, rapport, influence, and eventually behavioural changes toward climate change at the nationally and international scale.
The application of virtual influencers removes concerns around using real influencers. Working with a real influencer presents a wide range of potential risks (e.g. reputational risks if the wrong influencer is recruited or behaves irresponsibly in the future and/or they are expensive or difficult to work with). This project is not going to reinvent the wheel as there are successful projects around virtual influencers in the entertainment and media sectors, however, it is novel as this is the first virtual influencer character based on a knowledge exchange collaboration between academics and industry that aims at mitigating a global challenge, climate change. This is important because recently some real influencers misguided the public by spreading misinformation about climate change. Therefore, Vida facilitates communicating accurate information and peer-reviewed messages to the public, particularly young generations who are future leaders. Furthermore, a virtual influencer can travel across borders due to involvement of creative artistic elements (e.g. storytelling), using innovative technologies and accessible digital platforms (follow Vida on Instagram).
The key audiences involve:
Young people aged 12-17. In COP26, a number of events were dedicated to promote youth empowerment and public engagement to galvanise climate action. We are targeting this audience segment because they are avid users of social media and need to be more engaged with climate change because they are the future leaders, managers and policy makers that will effect change. Behaviour changes like 'nudge theory' takes time and we need to engage them now in order to nudge change for the future. Our communications strategy is targeted towards stimulating positive attitudes and behaviours towards climate change actions.

Eco-conscious social media users of any age. As this virtual influencer is going to promote eco-friendly activities, eco-conscious individuals are not interested in such movement, but they may proactively support the virtual influencer communications (e.g. sharing the posts).

Media and public (including funding bodies) and third sector organisations (e.g. NGOs). These audiences are interested in climate change actions as it is either a part of their vision, missions and values (CSR) or appealing to their stakeholders.
The ultimate impact of this project is for public attitude and behaviour change through their engagement with virtual influencer communications. Our ambition is to actively contribute to climate change actions and events (e.g., COP) as creative digital techniques offer massive opportunities to Vida to travel across borders to make a real difference against the climate emergency globally. This project has a synergy with the NERC Discipline Hopping for Environmental Solutions in which we've developed a bespoke green game in partnership with a game company (P&P). The VI character appears in the game. In fact, this green game promotes the VI character and introduces her interest/habits (e.g., green games). To maximise the impact of the project through high involvement of the target group, we intend to develop a full video game that Vida is the key character over the next four years which will have a synergy with the virtual influencer project.
Staff
---
Copyright The University of Sheffield 2022 
Flagship institutes
The University's four flagship institutes bring together our key strengths to tackle global issues, turning interdisciplinary and translational research into real-world solutions.