Undergraduate Eleanor is making industrial impact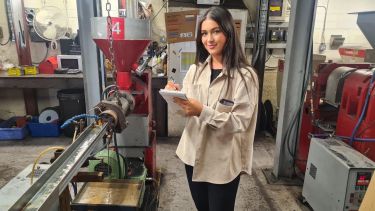 Over the past 8 weeks, I have been working on a process improvement project for Anchor Magnets Ltd in conjunction with the University of Sheffield 's SURF internship program.  Anchor Magnets were founded in 1984, their specialist knowledge and expertise has been supporting retailers, printers and manufacturers across the globe. Their vision and ever-expanding capabilities make them the UK's leading authority in the field of magnetic and attractive products.
The project I am working on involves analysing samples of raw material feeding into the extruding process to determine the root cause of some product quality issues that the company was facing. Anchor Magnets are renowned for their flexible extruded magnets having developed a number of bespoke manufacturing processes in house. My role involved working with experienced production operatives on the shop floor, problem solving under guidance of the company's technical leader, using the university's lab facilities to analyse raw material samples under guidance of my supervisor, analysing data and making recommendations for process improvement. 
By applying various aspects of my degree to the technical extrusion process at Anchor Magnets, I was able to gain a detailed understanding of the extrusion process and how it runs in industry. A highlight of my experience was being able to work at the company in person, enabling me to meet remarkable individuals with decades of experience in the engineering sector and providing me with a plethora of knowledge that I will be able to apply for the rest of my engineering career. After a year of working remotely, it was refreshing to be able to utilise what I had learnt and apply it to a real-world problem. My work at the company involved running time audits to analyse how time can be saved and collecting samples to test. 
Whilst gaining valuable experience in an industry environment, I was also able to utilise the analytical facilities in the Kroto research laboratory. By designing my own experiment, I was able to use equipment such as a thermogravimetric analyser and differential scanning calorimeter to identify the properties of the off-spec material in comparison to a "good batch". I was then able to use a calendar mill to identify the optimum parameters to utilise the material and eradicate the defects, which has the potential to save Anchor Magnets thousands of pounds.
I am extremely grateful for the opportunity and would like to thank my supervisor Dr Alisyn Nedoma and Nancy Cutinha and Simon Lee from Anchor Magnets for all the help across the process.