We strive to be the best civil engineering department in the UK by developing and delivering our plans for excellent research.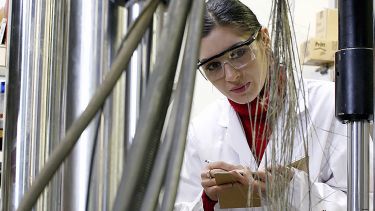 We've redefined our research goals and outputs, transformed our research culture by supporting and encouraging those who are showing research ambition and potential, and cultivated inter-disciplinary networks, so that our research strengths feed into the most important global engineering challenges we face.
Visit our 'Opportunities' page to explore available projects.
Want to join us?
To apply for a PhD in the department you will need to complete an online application form. Please read this useful advice beforehand.
We offer:
Modes of study:
---
Entry requirements
Minimum undergraduate Honours degree (UK 2:1 or better) or MSc (Merit or Distinction) in a relevant Science or Engineering subject from a reputable institution. (Guidance about overseas equivalent qualifications.)
English Language qualification such as IELTS (overall grade 7.0 with minimum 6.5 in each component) or equivalent. Pre-sessional English language courses are available through ELTC.
Evidence of your potential to carry out a research study successfully. Such as: 

Your research proposal
Excellent marks in a research project/dissertation undertaken as part of your undergraduate or masters course (including detail of any awards and/or prizes)
Academic references which clearly demonstrate your strengths as an independent researcher
Authorship of academic papers in internationally recognised journals or conferences

Applicants with other qualifications or experience should contact our Research Support Officer. 
Please note: meeting the requirements for admission does not guarantee an offer of a place to study.
There are other factors that the Department has to take into account such as:
Whether a supervisor with relevant expertise and supervisory capacity is available
Whether the infrastructure (e.g. lab space and support) is available
Whether the proposed work fits in with the supervisor's and the Department's strategic research objectives.
Funding Information
Applications for PhD scholarships for study commencing in the 2022-23 academic year are now open. The closing date for these scholarship applications is Wednesday 25th January 2023 at 17 hrs GMT. In the interests of fairness, late applications will not be accepted.
Applications for University scholarships run once a year and your PhD application will not be entered automatically. You must apply separately.
Funding is competitive and only applications with an offer of study and a strong supporting case from potential supervisors will be considered. Please note that an offer of a PhD does not mean that the project will be funded. You must provide information about how you intend to fund your studies with your PhD application as we cannot proceed without this.
How to apply
Visit our PhD projects page
Identify your preferred supervisors in order of preference (choosing a maximum of three)
Draft your project proposal:
This is one of the key criteria we use to make a decision about making you an offer. Your proposal should include:

The questions or hypotheses to be addressed
Research methods
A brief timetable of the period of study
How you expect the research to be useful and to whom
Why you wish to pursue this research

Your proposal should be no more than 1500 words. Enter it into the application form section 'Supporting Statement and Research Proposal'.
You should highlight your potential and demonstrate your knowledge and understanding of the field so that supervisors can see if you are a fit for them. Your preferred supervisor may not be able to offer you a project, so please tell us about generic research areas you might be interested in, so we can approach other academic staff.
Submit your supporting documents
You must attach electronic copies of all supporting documents to your online application. Without them, we can't process your application.

Proof of your academic qualifications
Two academic references
English language certificate (EU and Overseas applicants)
Supporting statement – this should not be a repeat of your research proposal. You need to highlight your skills, academic ability and enthusiasm, and demonstrate to us that we will benefit from your attendance as much as you will benefit from studying with us (approx 300-500 words). Enter this document into the section 'Course Supporting Documents'.
Your CV - list your publications and attach just two examples of your papers.
PhD research proposal (see step 3 above)

Further information and help is available at Applying essentials – PhD study and our Postgraduate online application form
If your application is successful, you will need to supply original documents before registering as a student.
The interview
We speak to all candidates we consider making an offer to. Interviews are either face-to-face, telephone or Skype. They take approximately 30 minutes and two members of staff will take part.  They will look for evidence of personal effectiveness, good communication skills, evidence of knowledge, and intellectual ability.
We process applications as quickly as possible, but some may take longer depending on receipt of supporting documents, and discussions between applicants and prospective supervisors.  If your application takes longer than normal we will inform you of the reason behind the delay.
---
Cohort start dates
We offer an enhanced induction programme for new PhD students and we strongly encourage candidates to begin at the start of each semester (late September/early February). This allows students to share experiences and provide mutual support as a group.
If these dates are not, an alternative starting date is possible although this will require the approval of the PhD Admissions Tutor.
Find a PhD
Search for PhD opportunities at Sheffield and be part of our world-leading research.