'My stay has been filled with new experiences' - a day in the life of Omosefe

Omosefe Osakue
Undergraduate Student
MComp Computer Science
Undergraduate Omosefe Osakue offers a fascinating insight into why she loves studying Computer Science at the University of Sheffield.
Hi - I'm Omosefe, a first year Computer Science student from Lagos, Nigeria. I chose to study at the University of Sheffield because of its rankings in the QS 'Top UK Universities for Computer Science in 2021' and StudentCrowd's 'Best University for Students' Union 2021' in which Sheffield was ranked in the top 20 and first positions respectively.
So far, my stay here in Sheffield has been filled with new experiences. From meeting people from different backgrounds to the University's wonderful academic and mentoring scheme, there have been many 'firsts' for me.
During my time in Sheffield I've had a flexible student lifestyle where I can explore the Steel City. I've been able to work a part-time job as an International Student Ambassador, join both sport and academic related societies, make new friends and still have more than enough time for study.
Here is an example of a day in my life:
7:00am
Wake up and do my morning routine, which includes a shower and grabbing a light breakfast with some snacks to keep my energy up during the day.
8:00am
This year I stayed in University-owned student accommodation (Ranmoor Student Village) which was a bit of a distance from the University, so I would meet up with some of my course mates for the walk. During this time my friends and I would discuss our plans for the day and the various projects we have been working on. 
9:00am
No two lectures are the same. Some focus on maths-related problems where we go over the lecture slides - and our lecturers always ensure that we understand each problem before moving forward. Some could be on the theories of the various coding languages we are learning, while others involve labs. One of our modules even had us programming a MIRO robot to accomplish certain tasks, and another had us building a website from scratch that included a game on it. 
11:00am
Walk to 38 Mappin Street for a Group meeting for my Software Engineering module. This consisted of us working in smaller groups of seven with our supervisor as we discuss progress on our semester-long project.
12:00pm
Have lunch with my friends, which is usually at The Diamond. Sometimes we would take a quick walk to West Street to visit some of the student hot spots like Pasam's Kebab and The Lunch Stop.
4:00pm 
Thanks to the flexibility of my University schedule, I am able to balance a part-time job after a day of study and return to the Diamond later in the evening for a study session.
10:00pm 
After study I would either walk or take the bus back to Manchester Road. I would often reward my successful day with a treat from Morrisons for the walk home.
10:30pm 
Cook and have dinner (often packing the following day's breakfast) with my flatmates as we all chat about our day, which is something I sincerely look forward to after a long day of work. 
11:00pm 
Right before bed I would pack my bags, sometimes go visit my friends who stay in my building or maybe hang out at the Ridge (Ranmoor's Student Village social hub) or go straight to bed.
Some activities that do not occur in my day-to-day life but have occurred include:
Attending the various student fairs that take place at the Student Union
Picnics at Endcliffe Park with my friends
Attending Seminars by industry professionals
Attending socio-cultural events with my fellow international students
Visits from the Residence Life Mentors
Game nights with my flatmates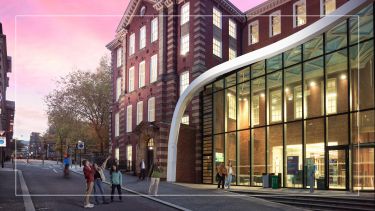 Visit us
Discover what sets Sheffield apart at our undergraduate open days on the Saturday 21 October or Saturday 18 November.