The Visual Computing group includes computer graphics and animation, complex systems simulation allied to rendering and visualisation, and computer vision, especially for robotics and autonomous systems.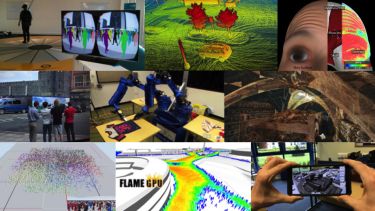 In computer graphics and animation, we mix programming, mathematics and visual creativity, with interests in simulating the human face, with its intimate link between modelling and animation and the production of interactive experiences in augmented and virtual reality. 
In the simulation area, we utilize graphics hardware (GPUs) to provide scalable software solutions for science and engineering problems, for example simulating pedestrians and traffic in a city area. Our work has produced FlameGPU for agent-based modelling. 
In computer vision research, we focus on solving real-world problems, including 2D/3D industrial object detection/recognition, human detection/tracking and industrial scene understanding. We also adapt state-of-the-art computer vision and machine learning technologies to emerging robotics problems, e.g. manipulating industrial/deformable objects, SLAM, and robot navigation in shared environments with humans. 
---
Application Areas
computer facial modelling and animation, including applications in audiovisual training, sketch-based approaches for modelling, and both geometric and physically-based animation approaches

digital heritage, including immersive experiences (using AR and VR) and capture and processing of 3D data for the production of archaeological artifacts and spaces

complex systems simulation, including biological cellular systems, pedestrians and transport simulation, allied with interactive visualisation

high performance and real time computing, application of GPUs and heterogeneous architectures

research software engineering for GPU computing and interdisciplinary application of simulation and visual computing

multi-sensor perception, i.e. detection, recognition and tracking using RGB-D and LiDAR sensors

3D mapping and long-term robot localisation in changing environments

autonomous visually-guided robot manipulation and navigation
Core members
Academic staff
Research associates
Robert Chisholm (RSE)
Twin Karmakharm (RSE)
Peter Heywood (RSE)
Marwan Taher
Research students

Eidah M Alzahrani
John Charlton
Yunus Cogurcu
Yichen He (joint with Animal and Plant Sciences)
Eleftherios Ioannou
Luis Rene Montana Gonzalez
James Pyle
Ahmed Sedeeq
Mohammad Shirvani (with CIV)
Facilities
The research group is housed in a dedicated research lab, with individual computing equipment supplied for each research student and project.
Flagship institutes
The University's four flagship institutes bring together our key strengths to tackle global issues, turning interdisciplinary and translational research into real-world solutions.