Dental Hygiene and Dental Therapy: Our Community
Many of our students make friends for life here at Sheffield and form part of a vibrant school community.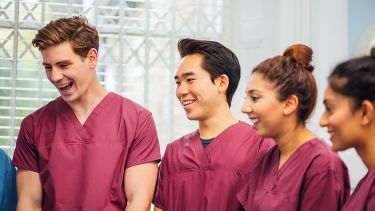 Friends for life
As soon as we make you an offer to study, we will put you in touch with your new fellow students and staff. You'll be able to ask any questions as you prepare for the start of your course.
During your intro week we also arrange a social event so you can get to know all our students and staff on the course.
At Sheffield we pride ourselves on the good relationships we have with our students. As well as your personal tutor, all our staff are available to offer advice and support.
We hope you'll become one of the growing number of students who remember their years here as happy and rewarding ones.
Studying Dental Hygiene and Dental Therapy at Sheffield University is the best thing I've ever done! The staff and students are very friendly and welcoming which makes life at University so much more fun and enjoyable

Esther Liptrot
---
Buddies
At the start of the course all first year students will be allocated a second year buddy. You'll have the opportunity to meet your buddy during Intro Week.
Second year students will be able to give their buddies invaluable advice about their course and how to approach their studies. You will also be able to refer patients to one another to help broaden your clinical experience.
Many students have found this informal system has helped them with their transition to full time university study.
---
Sheffield University Dental School Society (SUDSS)
Our School has one of the largest dental students' societies in the UK and you can be a part of it. It is regularly shortlisted for Students' Union society and committee awards, including best departmental society of the year.
SUDSS is run by our dental students and it aims to make sure our dental students have the best time of their lives here at the Sheffield.
SUDSS also works closely with the School to make improvements to our courses and facilities.
There are a huge number of ways to get involved with SUDSS and their activities include:
Regular socials including the annual ball and graduation ball
Fundraising activities including the Dental Revue - an annual charity event where students and staff get together to reflect on the funnier aspects of study and to raise money for charity
Community and educational projects including mouth cancer awareness week
Dental families - make friends and offer support to students from different years of study
Intra-mural and inter-school sports including netball, football, hockey and rugby
---
Student voice
We place great value on the opinions of our students and there are numerous opportunities for you to get involved, to have your say and also represent the views of other students.
At the start of each year, your year group will be given the opportunity to nominate and elect one representative who will attend committees on their behalf. The year representatives will form the Dental School's Student Council (DSSC).
These opportunities are supplemented by a range of surveys and evaluations which our students are invited to participate in.
Listening to our students helps us to maintain a high quality programme and is one of the reasons we have such high student satisfaction. We achieved 100% overall student satisfaction in the National Student Survey for four years in a row (2015-2018).
Explore the University
Discover why Sheffield is the right choice for you at one of our open days or events.