Professor Christopher Stokes
BMedSci (Hons), MEd, PhD, PFHEA, NTF
School of Clinical Dentistry
Professor of Digital Learning and Dental Education
National Teaching Fellow
Director of Learning and Teaching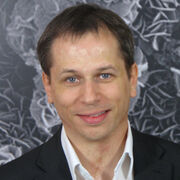 Profile

Chris joined the School as a University Teacher after completing his PhD in Dental Materials in 2005, being promoted to Senior Teacher in 2009 and being given a personal chair in recognition of his work in digital learning and dental education in 2018. He has always had an interest in teaching, and has worked on a wide variety of School, Faculty and University projects.

Chris also has a number of teaching leadership and management roles. A selection of these include: Dental School eLearning Coordinator and leading Sheffield's first Futurelearn MOOC 'Discover Dentistry'. He was Cross-Cutting Director of Learning and Teaching (Digital Learning) for the University 2015-2019, and is currently the Lead for the BDS Programme.
Publications
Research group

Anna Greer (Professionalism, dentistry and social media)
Ashley Towers (Haptic simulation to support teaching in dentistry)
Hathal Albagami (3D printing to support dental clinical teaching)
Rayan Al-Hawsawi (Measurement of dental material chemical solubility) (completed 2019)
Khalid K Alanazi (3D printing of PMMA for denture bases)
Teaching interests

Chris's teaching interests centre around the use of technology to engage learners in dentistry. This includes large projects such as Discover Dentistry, an open online course for aspiring dentists, or projects that look at how technology can support the more focussed challenges of teaching dental skills through visualisation and simulation.

He is also committed to widening participation in dentistry and works through outreach and online courses to support students in accessing dental careers.
Teaching activities

Chris is the Programme Lead for the BDS Programme and leads on the teaching of Digital Skills, Information Literacy and the Introduction to Dental Technology. He contributes to teaching on Scientific Writing, Dental Materials, and Dental Photography.

Chris is a winner of multiple teaching awards, including a National Teaching Fellowship in 2016, and a Senate Award Fellowship for Excellence in Learning and Teaching in 2005. Chris is also a Principal Fellow of the Higher Education Academy.

Chris has worked on University projects related to Feedback, Personal Tutoring and supporting staff in their own development of learning and teaching through the Digital Commons.
Professional activities

Recent conference papers and keynote lectures

Stokes. C.W. (2018) Creating a Digital Commons. Keele Digital Festival, 5th-7th June 2018
Stokes C.W. and Kinsey M. (2016) Creating the digital commons: Provocation. Inspiration. Collaboration. Blended Learning Forum, London.
Stokes C.W. (2016) Can MOOCs make a difference? - Driving institutional change and widening participation with digital learning. MMiT National Conference, Sheffield.
Stokes C.W., Kinsey, M. (2016) Digital Presence at the University of Sheffield. European Universities Association, Galway
Stokes C.W., Grant, V.A. (2016) Developing a collaborative vision, strategy and offer for information and digital literacy in your institution. Librarians' Information Literacy Annual Conference (LILAC), Dublin