Professor Helen Rodd
BDS (Hons), FDS(Paed), PhD
School of Clinical Dentistry
Professor in Paediatric Dentistry
Honorary Consultant in Paediatric Dentistry
Deputy Director of Teaching and Learning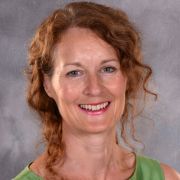 Profile

I qualified with Honours from Bristol University, UK, in 1988. Moving North to Sheffield, I completed my higher training in Paediatric Dentistry and was awarded Clinical Research Fellowships from both the Royal College of Surgeons of England and the Medical Research Council. I was appointed professor/honorary consultant in paediatric dentistry at Sheffield Dental School in 2006.

As an academic paediatric dentist, I spend my time fairly equably between NHS service delivery, educating and enthusing dental learners of all levels, and undertaking a programme of child-centred oral health research. Outside the dental school, I have an active role in the British Society of Paediatric Dentistry and the International Association of Paediatric Dentistry. The little spare time I have left is spent cycling around the world, having many adventures!
Research interests

I have two very disparate research interests, spanning from the laboratory to the patient experience. My earliest work was in the field of neuroscience, where I used the human tooth pulp as a model to gain greater understanding into mechanisms of inflammatory pain. More recently, I have focussed more on the patient experience, with particular emphasis on the impact of dental conditions, such as traumatic dental injuries or enamel defects on children's oral health related quality of life. I work in a fantastic multi-disciplinary research team which aims to improve the oral health and treatment experiences of children and young people through a combination of clinical and social science research strategies. To date, we have been fortunate in securing four research fellowships (including two NIHR Doctoral Research Fellowships) for PhD students working in this area.
Publications
Research group

PhD students:

Noren Hasmun. Predictors of clinical- and patient-reported outcomes for the aesthetic management of Molar Incisor Hypomineralisation in young patients.
Rebecca Knapp. The effect of dental treatment for the management of dental caries under general anaesthetic on the oral health-related quality of life of children.
Annie Morgan. Development of an electronic patient-reported outcome measure for dental anxiety (funded by a RCS Eng Research Fellowship).
Helen Rogers. The use of ordinal methods in health state valuation in children: application in child oral health research (funded by an NIHR Doctoral Research Fellowship).
Teaching activities

In 2015, I was appointed deputy director of teaching and learning, with a particular focus on curriculum review. I also have leadership responsibilities, as theme leader for the second year theme, Growth, Development, Ageing and Nutrition. In addition, I am involved in teaching and learning throughout the five-year undergraduate dental curriculum, particularly in relation to my specialty of paediatric dentistry. I provide teaching in laboratory-based clinical skills as well as overseeing clinical treatments in the paediatric dentistry clinic. I supervise hygiene and therapy students on their rotations to the Sheffield Children's Hospital where they are able to carry out extractions under general anaesthesia. I also lecture to these students as part of multi-professional learning alongside the dental undergraduates.

In 2015, I was appointed Training Programme Director for paediatric dentistry within South Yorkshire. Alongside this, I am involved in the delivery of a taught clinical Masters programme.
Professional activities

Charles Tomes invited lectureship, Royal College of Surgeons of England
Member of the Awards Committee, International Association of Paediatric Dentistry 2016/17
Past Scientific Chair, International Association of Paediatric Dentistry (2015)
Chair of the British Society of Paediatric Dentistry Commissioning Group (2010-2015)
Past President, British Society of Paediatric Dentistry (2010/11)
Invited international speaker, with recent engagements including: World Congress on Dental Traumatolgy, Brisbane, 2016; Apollonia Symposium, Finnish Dental Society, Oulu, 2016; Congress of the Australian and New Zealand Society of Paediatric Dentistry, Adelaide, November 2015; International Association of Paediatric Dentistry Congress, South Korea, 2013 and Hong Kong 2006
Examiner for the Intercollegiate Specialty Fellowship Exit Examination for Paediatric Dentistry (2010-present)
Recent external examiner: Newcastle University, Kings College University London, University of Adelaide, University of Melbourne
Panel member: Dental Multi-professional Visit Working Group, on behalf of Health Education England, 2016
Editor of the International Journal of Paediatric Dentistry (2005-2010)

Clinical

I completed my higher specialist training in Paediatric Dentistry in 1997 and was appointed as an Honorary Consultant in Paediatric Dentistry at the Charles Clifford Dental Hospital (CCDH), Sheffield Teaching Hospitals NHS Foundation Trust in 2002. As a clinical academic, I make a substantial contribution to service provision within the Paediatric Dentistry clinic at the CCDH. I undertake 4 direct clinical sessions weekly including operating sessions at the nearby Sheffield Children's Hospital. I have a particular clinical interest in dental anomalies and undertake a bimonthly multidisciplinary Paediatric Dentistry/Restorative Dentistry treatment-planning clinic.