Careers and further study
Our courses aim to prepare you for a rewarding career in healthcare and industry. You may also choose to do further specialist qualifications.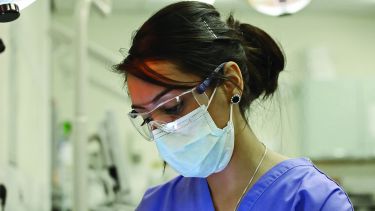 Off
Most dental surgery graduates apply for a one-year Dental Foundation (DF) training programme. This provides you with a supportive environment where you can continue to develop your skills and experience to the point where you become an independent practitioner. Successful completion of the DF year enables you to work in an NHS practice.
After their DF year, most graduates find work in general dental practices, in the community dental service or sometimes in the armed forces. Some choose to undertake further specialist training to enable them to become speciality dentists, hospital or academic consultants or to become researchers.
Dental hygiene and dental therapy graduates play a key role in the delivery of dentistry with both clinical and health promotion responsibilities. They work in the community dental service, hospital service, local NHS and private dental practices. Others go on to clinical research or undertake further study to become a dentist.
---
Intercalated degrees
If you study our BDS Bachelor of Dental Surgery, you'll have the opportunity during your degree to take a year out and study an intercalated BMedSci degree.
The BMedSci provides an opportunity to obtain a deeper understanding of an area of study you were introduced to in your dental course. You will undertake a substantial research project providing you with the chance to develop your research skills and potential. Whilst studying, you will continue with your patient contact so that you do not become deskilled during your year out.
An intercalated degree will also considerably enhance your CV, and broaden employment prospects. For those interested in pursuing an academic career, it is even more worthwhile.
---
Further study
If you choose to continue studying after graduation, there are a range of postgraduate study options for you to pursue within our School of Clinical Dentistry and beyond. We offer a broad range of masters degrees and PhD opportunities in fields such as restorative dentistry, dental materials, dental public health, dental technology, paediatric dentistry and more.